Iced Oatmeal Cookies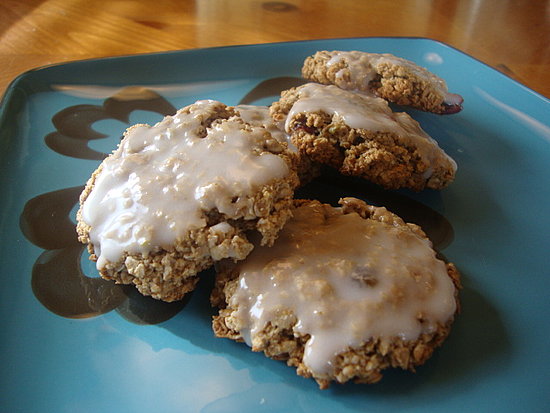 Yum! These were quite delicious and easy to make. The recipe calls for a 1/4 C of applesauce and of course, I didn't have any. We're not big applesauce eaters here and I knew that any leftovers would turn different shades of green and white, so I opted to make my own. I just chopped up 1/2 a Grannie Smith–skins and all–and threw it into the food processor with a 1/4 cup of water and a tsp of sugar. Worked beautifully! Also, the recipe calls for flax meal mixed with 3 Tbs of water, yet strangely never mentions it again. I nearly forgot to add it! So I figured the best time to do so was when adding the applesauce and vanilla. Seemed to be the perfect time. The lemon-flavored icing was the perfect accompaniment to these cookies!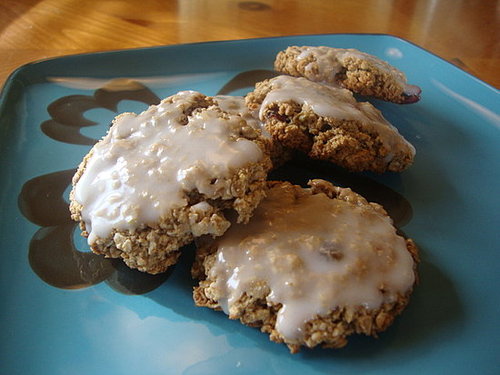 Vegetarian Times
Iced Oatmeal Cookies
Ingredients
2 Tbs flaxseed meal
1 C oat flour (I ground 1-1/2 C of oats to reach a cup of ground)
1 tsp baking powder
1/2 tsp baking soda
1/2 tsp salt
1/2 tsp cinnamon
2 Tbs margarine (Earth Balance)
1/2 C light brown sugar
1/4 C sugar
1/4 C applesauce (or they recommend prune puree)
1 tsp vanilla extract
1-1/2 C old-fashioned oats
1/2 C raisins or dried cranberries (I used 1/4 C golden raisins and 1/4 C of orange-flavored craisins)
Icing:
3/4 C confectioners' sugar
2 Tbs lemon juice
Directions
Stir together flax meal and water in a small bowl; set side. Whisk together oat flour, baking powder, baking soda, salt and cinnamon in a large bowl; set aside. Beat margarine, brown sugar and sugar with an electric mixer, 1-2 mins, or until light and fluffy. Add applesauce, vanilla and flax meal mixture and beat until smooth. Stir in oat flour mixture with a spatula or wooden spoon. Add oats and raisins/craisins, stir to combine. Cover and chill 2 hours or overnight. (I went with the 2 hours)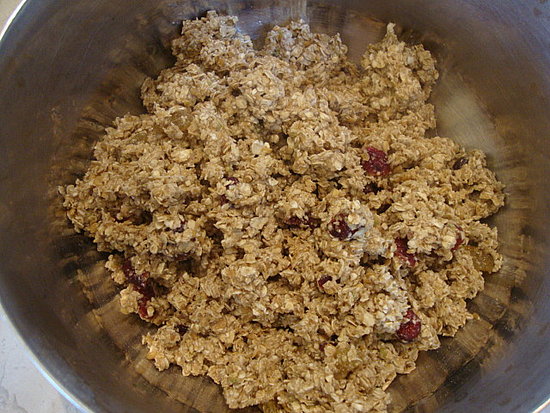 Preheat oven to 350. Line baking pans with parchment paper or coat with cooking spray. (I like to use the parchment or waxed paper). Roll cookie dough into golf ball-sized rounds, and place them 1-1/2" apart on baking sheets. Flatten each cookie to 1/4" thickness with the bottom of a drinking glass dipped in water.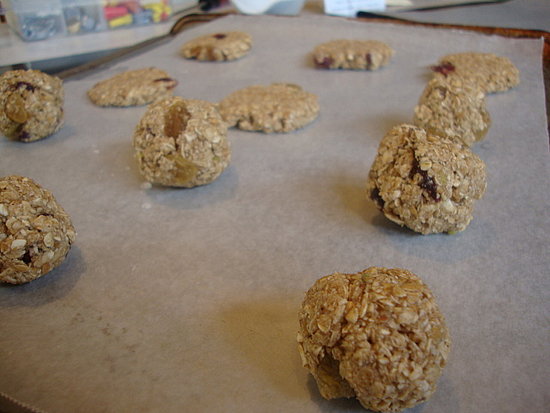 Bake 10-12 mins or until cookies look dry on top and are just starting to brown.
Meanwhile, to make icing: Whisk together the confectioners' sugar and lemon juice in a small bowl until smooth. Icing should be thick, but spreadable. Gently brush icing on hot cookies with a pastry brush. (On the second batch, I waited until the cookies cooled to ice them and I liked that better--the icing didn't "melt" into the cookies). Transfer to a wire rack to cool completely. Store cookies in an airtight container. Enjoy!
Information
Category

Desserts, Cookies
Saved to