Jiva Ayurveda Recipes - Basil Tea (Tulasyadi phanta)
Properties of fresh Basil leaves:
Taste: Katu (pungent) and
tikta (bitter)
Quality: Ruksa (dry) and laghu (light)
Potency: Ushna (warm)
Post-digestive effect:
Katu (pungent)
Properties of Black Pepper:
Taste: Katu (pungent) and tikta (bitter)
Quality: Ruksa (dry) and tikshna (sharp)
potency: Ushna (warm)
Post-digestive effect: Katu (pungent)
Properties of Cloves
Taste: Katu (pungent) and tikta (bitter)
Quality: Laghu (light) and snigdha (oily or moist)
Potency: Sheeta (cool)
Post-digestive effect: Katu (pungent)
Properties of Ginger:
Taste: Katu (pungent)
Quality: Ruksa (dry) and laghu (light)
Potency: Ushna (warm)
Post-digestive effect: Katu (pungent)
Medicinal Properties of Tulasyadi phanta:
It is very beneficial in sinusitis, flu, influenza, hay fevers, bronchitis, kapha type of fever, asthma and other kapha-related disorders.
Dosha Analysis:
The recipe pacifies kapha dosha and vata dosha. It increases pitta dosha.
http://jiva.com/ayurveda/ayurveda/recipe-14.asp
Jiva Ayurveda Recipes - Basil Tea (Tulasyadi phanta)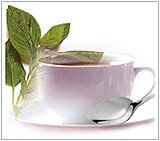 Ingredients
* Fresh Basil leaves 1 cup
* Black peppercorn 10 cups
* Ginger 1/2 tsp
* Cloves 1/4 cup
Directions
Crush all the ingredients coarsely. Boil these crushed ingredients in one cup of water on a moderate flame for 5 minutes. Sieve this mixture and add half a cup of hot milk and sugar (half teaspoon). Drink it warm.
It is better to avoid cold exposure after 1- 2 hours of drinking this tea. Relax and take bed rest.
Saved to