Jiva Ayurveda Recipes - Nutritious Cluster Beans (Gawar ki phalli or Goopshimbi)
Properties of Gawar ki phalli (Cluster Beans):
Taste: Madhur (sweet)
Quality: Guru and Ruksh (heavy and dry)
Potency: Sheet (cold)
Post-digestive effect: Madhur (sweet)
Medicinal properties of Gawar ki phalli (Cluster Beans):
The seeds of Gawal ki phalli have immense medicinal value. Guar gum is extracted from the ground endosperm of the seeds of the Indian cluster bean. It is a soluble, gel-forming fiber. Its medicinal properties include demulcent and mucilaginous. Guar gum has been shown to be effective in lowering cholesterol and high blood pressure, and it helps to slow down the release of sugar from the GI tract. Thus it is better to cook and eat it with seeds.
Dosha Analysis of the Gawar ki phalli (Cluster Beans):
Gawar ki phalli (Cluster Beans) pacifies pitta dosha and increases vata and kapha. Various spices are added in this recipe to reduce its kapha and vata aggravating properties. Boiling also pacifies its vata increasing properties. Thus gawar ki phalli (Cluster Beans) balances all the three doshas.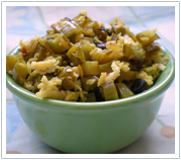 http://jiva.com/ayurveda/ayurveda/recipe-4.asp
Jiva Ayurveda Recipes - Nutritious Cluster Beans (Gawar ki phalli or Goopshimbi)
Ingredients
* 1/2 kg cluster beans, cut in to small pieces
* 1 medium sized onion grated (optional)
* Fresh coriander leaves
* 4 tsp powdered pomegranate seeds (Anardana)
* 2 tsp coriander powder
* 1 tsp fresh ginger paste
* 1/2 tsp turmeric powder
* 5 cloves crushed garlic (optional)
* Pinch of garam masala powder (It is a blend of many spices).
* Salt to taste
* Cooking oil
* I teaspoon of ajowain seeds
Directions
Boil the cluster beans in clean water. Grind the onion, coriander leaves, the garlic, the ginger, and pomegranate seeds together to make a fine paste. Heat some oil in a pan and add ajowain and asafetida for sputter. Add the above ground paste to the oil and then fry it. Now add the boiled cluster beans and the dry spices to it. Keep stirring, until all spices mixed with cluster beans. Cover the pan and cook it for about a few minutes. Finally, you're ready to serve it hot with bread or rice.
Information
Category

Vegetables, Main Dishes, Beans

Cuisine

Indian
Saved to