Kale and Celery in the Garden
I've been a bit neglectful this Winter when it came to the garden, and I'm still waiting to start planting for the spring until I can get some soil amendments into my garden beds. Even given my neglect, there have been some fun surprises to be found, such as this happy discovery in the garden last night.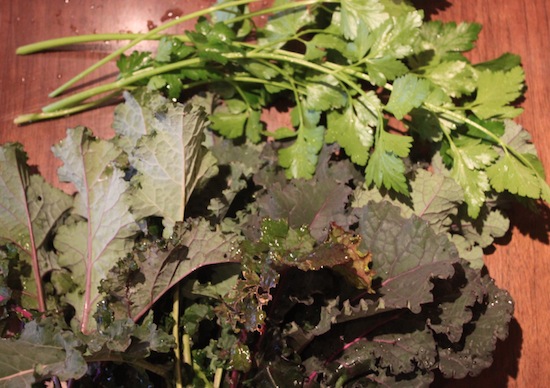 The top plant is a variety of celery that I've lost track of, but which produces a lot of very flavorful, skinny stalks. It looks almost like cilantro, doesn't it? We added it to salads last night, and it was pretty delicious. I'm planning on also adding it to some chicken soup later in the week.
And then we have the beautiful kale! We had a bit of an aphid problem earlier in the Winter, but some biodegradable soap spray, applied a few times, has taken care of most of the problem.
I sauteed the kale with red onions, adding a pinch of sugar to caramelize the onions and sweeten the kale. It was delicious!
Anything growing in your garden?
Saved to