Lasagna by Tony Danza
This recipe makes 2 HUGE lasagna's so I suggest you half it. I saw Tony make this on his talk show, back in the day haha. When I made it myself, I thought it was the best damn lasagna I have ever had. It is a LOT of work but very worth it. I am Canadian, but my hubby is American...so we celebrate American Thanksgiving at our house. My Grandma asked what I was making... I said the usual... she demanded 'my' lasagna (which is really Tony's LOL). Hope everyone enjoys!
Tony Danza
Lasagna by Tony Danza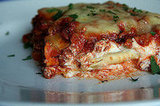 Ingredients
2 lbs lasagna noodles
2 lbs ricotta cheese at room temperature
3 cups mozzarella cheese
1 cup Parmesan cheese
Equipment:
2 roasting pans
2-3 mixing bowls
Sauce:
1 bunch fresh basil leaves, washed ( I used the conversion for dried and it was fine.. fresh would be prettier though)
1 cup Parmesan cheese
2 cans tomato paste
4 large cans tomatoes with basil
1 head garlic, finely chopped
1 cup olive oil
1 cup red wine (I omitted and it was still YUM)
1 small rack pork spare ribs (I omitted as well, didn't have them)
1 large onion
Meatballs:
1 lb chopped ground pork
1 lb chopped ground beef
4 eggs, lightly beaten
1 head garlic, finely chopped
2 cups Italian seasoned bread crumbs
1 cup Parmesan cheese
1 cup milk
salt & pepper to taste
Directions
Strain canned tomatoes through colander into mixing bowl. Discard pulp. Add basil, 1 cup Parmesan cheese, wine, and salt & pepper to taste.
In a large sauté pan, add 1 cup olive oil. Once hot, add garlic and brown, stirring constantly.
While garlic browns, make meatballs - In a large mixing bowl, add meat, eggs, milk, garlic, 1 cup Parmesan cheese, salt & pepper, and bread crumbs. Using hands, mix ingredients together and with a bit of tap water, roll meatballs (they can be large, as you will crumble them later). (seems like a waste to just crumble them, but it makes a huge difference)
Once garlic is browned, remove and reserve for later use. Fry meatballs in remaining oil, rotating when one side is brown. When you can pick them up with a fork, they are ready. Brown spare ribs in remaining oil and set aside.
Add garlic back into oil. Stir in 2 cans of tomato paste and simmer over medium heat for approx. 4-5 minutes. Stir, and add the strained tomato mixture. Simmer ingredients and add meatballs and browned spare ribs to sauce. Let simmer for at least 2 hours. Remove meatballs from sauce and using your fingers, crumble into separate bowl.
In another mixing bowl, add a few tablespoons of sauce to the room temperature ricotta to make it spreadable. Boil noodles according to package directions, being careful not to overcook. Once al dente, drain and add cold water to stop the cooking process.
Remove the spare ribs from sauce. Coat the roasting pans with a layer of sauce. Then layer each lasagna evenly in the following order:
-Noodles
-Crumbled meatballs
-Ricotta mixture
-1 cup Parmesan cheese
-Sauce
Bake according to the lasagna noodles box. Usually 450 degrees for 45mins.
Enjoy!!!
Saved to