Layered Taco Salad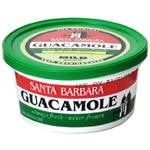 Ingredients
1 15-ounce can black beans, rinsed and drained
4 cups shredded iceberg lettuce
1 medium tomato, seeded and chopped
1-1/2 cups shredded cheddar or Monterey Jack cheese
1/4 cup sliced pitted ripe olives
1/4 cup sliced green onion
1 6-ounce carton frozen avocado dip, thawed
1/2 cup dairy sour cream
1 4-ounce can chopped green chili peppers, drained
1 tablespoon milk
1 clove garlic, minced
1/2 teaspoon chili powder
Chopped tomato (optional)
2 cups coarsely crushed tortilla chips
Directions
In a 2-1/2-quart glass salad bowl layer black beans, lettuce, tomato, cheese, olives, and onion.
For dressing, in a medium bowl stir together avocado dip, sour cream, chili peppers, milk, garlic, and chili powder. Spread over the top of the salad. If desired, sprinkle with chopped tomato.
Before serving, toss salad together and serve over crushed tortilla chips.
Serves 4
Information
Category

Vegetables, Salads

Cuisine

Mexican
Saved to