Lemon and Chocolate Cream Tart
Hello again fellow foodies!
Here's a dessert that will keep you wanting some more, more and moooore. :P
It's very decadent, so make it for your next special occasion to really please the crowd.
If your a cheesecake fan, you'll love this recipe, though it has no cream cheese, its got the cheesecake feeling to it.
Very creamy, with layers of lemon mousse and a fudgey chocolate. Yummmmmmm
Even my fussy brothers loved it!


Anyway, I got this recipe from a wonderful brazilian food blog called Rainha do Lar (Queen of The House).
In this recipe, cream is used, brazilians use that A LOT in their desserts, we make delicious new creations with it (yes, im brazilian).
So for your next dinner party, make this fabulous dessert!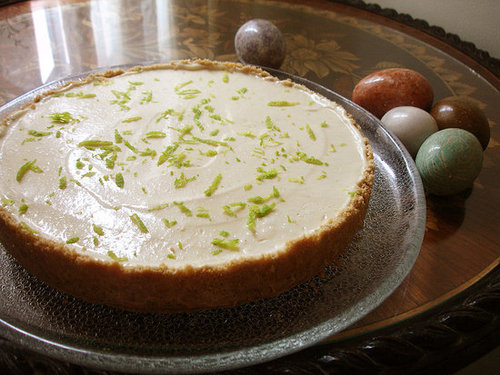 www.rainhasdolar.com
Lemon and Chocolate Cream Tart
Ingredients
Graham cracker crust (recipe below)
500 g semi sweet chocolate or milk chocolate
3 cans of cream
1 tbsp butter
2 tbsp Nutella
1 packet of flavorless gelatin (Knox is good)
2 tbsp warm water
1 can condensed milk
1/2 cup lemon juice
2 cups whipped cream (optional)
rind of one lime
Directions
For the graham cracker crust just break (250 g package) graham crackers into small pieces and place into a food processor.
Pour it all into a bowl with 200 g of melted butter and rub it together until you have greasy, sticky crumbs.
Dunk it all into a 24 cm wide pan (with a removable bottom) and press down hard until you have a firm crust.
Place it in a 350ºF preheated oven for 10/15 minutes.
Now for the chocolate filling, melt the chocolate in a double broiler or microwave and mix in one can and a half of cream, butter, Nutella and 1/2 a packet of the gelatin mixed in 2 tbsp of warm water.
Now just pour this velvety stuff you wanna lick until its done in the prepared pie crust and put in the fridge for now.
In a food processor beat 1 can of condensed milk, 1 can and a half of cream, the lemon juice and 1/2 a packet of the gelatin.
Now pour this over the chocolate layer that's been in the pie crust and put it in the fridge until the lemon mousse layer is firm.
Now all that's left is to pour the creamy whipped cream over (optional) and drizzle the lime rind on top.
Done!

Information
Category

Desserts, Pies/Tarts
Saved to