Lipstick Pigs in a Blanket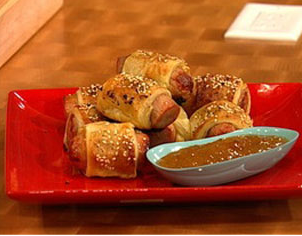 Ingredients
1 10-ounce jar apricot all-fruit preserve
1/3 cup honey
2 tablespoons soy sauce
1 tablespoons red wine vinegar
1/4 cup Dijon mustard
2 tablespoons sesame seeds
2 tablespoons poppy seeds
1 box puff pastry, defrosted and refrigerated until ready for use (recommended brand: Pepperidge Farms)
1 12-ounce package pre-cooked apple chicken sausage, or any kind you like (about 4-5 links)
Directions
Preheat oven to 450° F.
In a medium-size mixing bowl, combine the apricot preserves and honey. Reserve 1/3 of the apricot mixture for another use. Add the mustard to the remaining apricot for the dipping sauce.
In a small bowl, combine the sesame seeds and the poppy seeds and reserve for sprinkling later.
Cut each sausage into 2 even pieces.
Spread some of the apricot-honey mixture over puff pastry, reserving some for dipping later.
Cut the puff pastry sheet in half and then cut 5 equal rectangles out of each half, making 10 equal rectangles.
Lay 1 sausage chunk an inch from the edge of the puff pastry. From there, roll the puff pastry and sausage to the opposite edge of the square. Give it a quick pinch to close.
Lay the rolls out on a baking sheet with enough room to allow the puff pastry to rise. Brush a little more of the apricot mixture on top of each blanket, then sprinkle each one with a little of the sesame and poppy seed mixture.
Bake according to the puff pastry package directions, or until golden brown all over, about 12-15 minutes. Serve with dipping sauce.
Serves 4.
Information
Category

Appetizers, Puff Pastry

Cuisine

North American
Saved to