More Little Big Planet Love :-)
Earlier this month, Geeksugar posted a story about Little Big Planet "live" Avatars, which made me even more anxious for my awaiting Amazon.com order.  And was I eagerly waiting for you might ask.....  Well, I was waiting for him: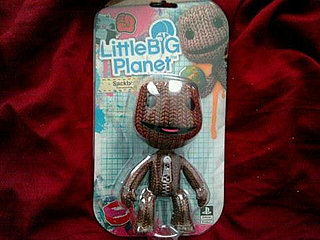 Meet my Sackboy...soon to be general travel companion and fellow life liver-er.  I hope you catch my drift.  Because I travel a lot for work, I usually find it difficult to want to take pics of me in certain places without either having to ask someone around to take a pic (and even then it's a bit awkward since it's a pic of just you)  or to perform that strange semi-contortionist move of outstretching one's arm out long enough to not be too close-up and angled in the way that angle of the camera doesn't capture you in a "fat face" pose.
I considered doll-like items that could potentially have a slight resemblance, but that always somehow lead me to something along the likes of Dora the Explorer.  So I settled for Sackboy...because I enjoy playing the game on both the PS3 and PSP.  I only wish they had a Sackgirl toy available, but unfortunatly not with this particular model.
But feel free to stop by my Photo Galleries to visit my "Adventure's of Sackboy" gallery where I celebrate Life...with Sackboy :-)
Saved to