MMMMMinty- any filling ideas?
Chocolate minty to be exact.
I got one of these peppermint brownies at whole foods a while back... and though I'm not a HUGE chocolate mint fan... I couldn't stop thinking about them. They are that good. They have the chocolate brownie layer, of course, then theres this whipped mint filling, then kind of a shell of chocolate on top of it all. *drool*
So, today, while picking up some other little things I needed over there, I picked up some dessert... MMMMMMMM.
Yes I want to devour them NOW, but I'll wait. The bigger reason I got them, other than gluttony, though is that I'm thinking I'd like to make cupcakes that taste like these buggers. MMMMM. I'm thinking dark chocolate cupcake with minty filling and a bit of chocolate on top... The part that is going to get me is the filling. It's not heavy and rich, its whipped and fairly light... so I'll have to figure that out.
If anyone has any ideas, let me know. And if you have the whole foods recipe for them... maybe I'll make out with you for it... lol.
Yes, they ARE that good.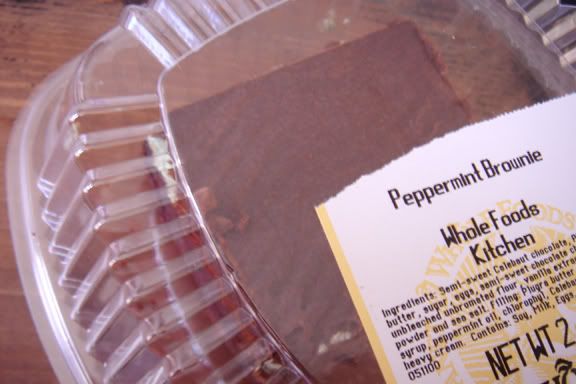 Saved to