Pumpkin Mac 'n Cheese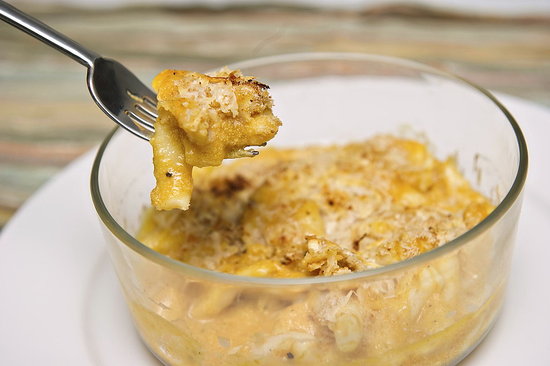 When I said this was put pumpkin in everything month I really meant everything! Today, I experimented with pumpkin in one of Gavin's favorite foods- Mac N' Cheese. I have seen a few recipes using butternut squash as a substitute for some of the oil and cream in traditional Mac N' Cheese…and since I use pumpkin as an oil substitute in baking, I decided to give it a try!
I am not going to promise that this Mac N' Cheese can compete with your Momma's version-BUT I can promise that it is creamy, satisfying, and healthier than you ever thought possible! And, it got Gavin's stamp of approval!
I used nutrient rich pumpkin, protein packed Greek Yogurt, tangy mustard and my secret ingredient…nutritional yeast! I discovered this little gem at a fabulous vegetarian restaurant in Athens called The Grit. They serve something called The Golden Bowl…its basically just sauteed veggies over rice, but it is topped with this lovely golden flakiness that makes it taste creamy and surprisingly cheesy. Ever since then, I have wanted to try to make a healthy "cheese" sauce out of it. It is sold at Whole Foods, the Farmer's Market, and really any health food store. It is packed with protein and virtually fat free. It is definitely worth picking up next time you see it!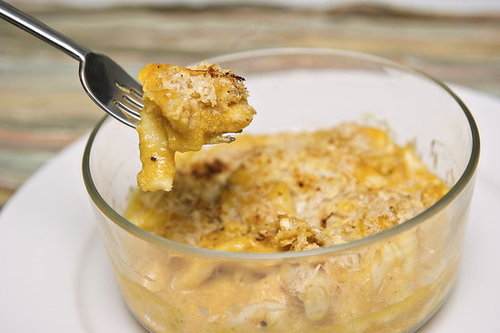 Ingredients
Makes 4 large servings
1/4 C pure canned pumpkin
1/4 C o% plain greek yogurt
2 heaping Tablespoons nutritional yeast
1 t yellow mustard
1 t garlic powder
1 t sea salt
1/2 t fresh cracked black pepper
1/4 C skim milk or plain almond milk
1 t corn starch
1/8 C water or chicken stock
1/4 C plain bread crumbs
1/4 C grated parmesan cheese
16 oz macaroni noodles
Directions
Preheat the oven to 350 degrees. Make macaroni noodles according to package instructions…be sure not to overcook them!
In a medium sauce pan, over medium heat, whisk together the pumpkin, yogurt, nutritional yeast, mustard, garlic powder, salt, pepper and milk. Bring the mixture to a gentle simmer. In a small bowl, mix the corn starch and water or chicken stock and whisk it into the pumpkin mixture.
Allow this to simmer for about 2 minutes and then toss in the cooked pasta.
Now, transfer the pasta into a baking dish and sprinkle the top with bread crumbs and cheese.
Bake for about 20 minutes- until the cheese starts to brown.
Enjoy!
Information
Category

Pasta/Noodle, Side Dishes
Saved to