Maple Pecan Candied Bacon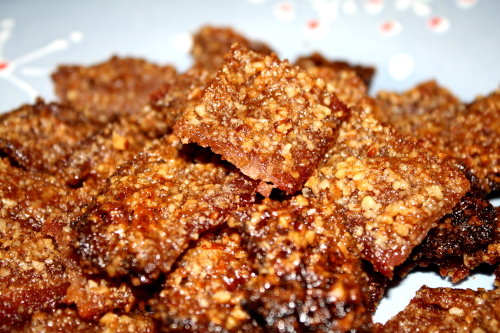 I think I'm just going to overload you with sweet treats right before the holiday. Then you'll have no choice but to tune in to the Holiday Sugar Blues Teleclass on January 11th…MUAHAHHAAA.
Here is yet another sweet treat. This would be the perfect thing to bring to a holiday party. It's part picky (appetizer) part dessert.
Maple Pecan Candied Bacon
Ingredients:
1 lb bacon (I used uncured with no nitrates or nitrites added)
1/2 cup finely chopped pecans
1/4 granulated maple sugar (you could also use palm sugar)
Directions:
Preheat the oven to 350 F
In your food processor, chop the pecans into a coarse meal.
Mix the pecan meal and maple sugar in a dish and coat the bacon. It's just like breading fish or chicken: you have to flip it a few times and press it into the meal to make sure it's coated.
Place the bacon on a wire rack over a baking pan lined with aluminum foil and bacon…I mean bake for 30 minutes.
Let the bacon cool on the rack, and then transfer to a paper towel to soak up some of the grease. Then, chop into bite-sized bits and serve!
For more recipes like this one, visit my health living blog, Frisky Lemon
Saved to