Martinis and Martini Style Libations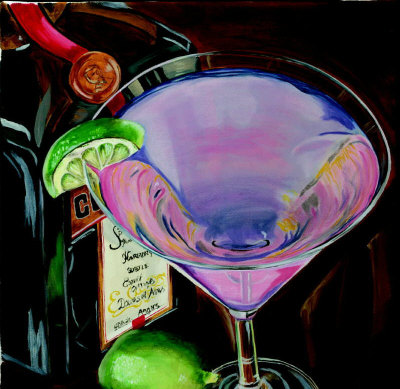 At first "Martini" only referred to a straight up gin drink. Then came the Vodka Martini which is now the most popular. The ingredients never varied that much, the spirit (gin, vodka), ice and a little Vermouth, maybe a dash of juice. Sure, there was some interesting garnishes (olives, onions, lemon, chili pepper, orange, lime), but plain and classic, the Martini has remained for decades.
 
Here are the rules that exist today:
1. If you serve it in a Martini glass and there is no whiskey in it you can call it a Martini.
2. They can be any color of the rainbow.
3. They can be very potent, or have their strength dramatically cut low with octane liqueurs and mixers.
 
 
Perfect Pour Every time
1. Take your Martini glass and fill it with water to the level to which you will be pouring.
2. Now take out 2 tsp of water (this is what you will be gaining from the chilling process).
3. Take the mixing glass you would be using to mix your Martinis in the future in, and fill it with ice.
4. Pour the water filled Martini glass into the ice filled mixing glass.
5. Now mark the side of the mixing glass with a marker or paint. This is where you want your liquid with ice to come to every time you make a Martini. Leave this marked glass next toy our mixing area for reference.
 
 
Chilled Glasses
Nothing enhances a perfectly made Martini more than a nice chilly glass. If you can, refrigerate your glasses 20-30 minutes before needed. If you have no place cool to keep your glasses, line up as many as you can safely and fill them with ice and water. They will be ready in 30 seconds.
 
 
The Shake
You need to shake all the new Martini drinks. You have your ingredients in the glass. You have secured the mixing cup to the glass. Now pick them up one hand on the glass, one hand on the cup, and let's get a little shaking going on. The trick is getting a little rhythm going. Try up and down like a piston in an engine. Try horizontally in front of yourself, in and out. Practice and choose whatever you feel better with and always keep in mind, the longer you shake the drink the more diluted from the melting ice it will become.
 
 
 
Saved to