Memories of baking Strawberry-Rose Macarons with my Baby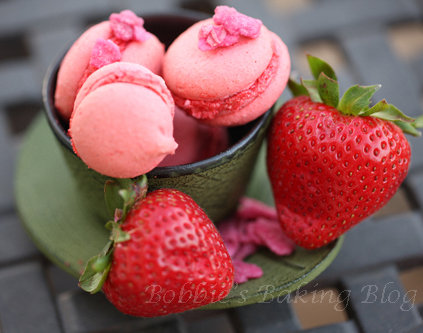 I was writing a check today and asked Sydney what the date was; I couldn't believe January is over and February has begun. I was reminded of the day Sydney was born, and like most parents I calculated the year she would graduate from high school (2010). That evening, when she was born, while I watched her sleep in our hospital room I wrote letters for the milestones she would encounter through her life; her first day of kindergarten, the first day of middle school, her high school graduation, college graduation, her wedding day, ect… I tucked those precious letters away till each experience happened, and gave them to her to read. I knew of course she would one day graduate from high school, but the year 2010 seemed so far away; today she has finished almost two years of college and the dates of letters
awaiting her to read, that await her don't seem so far away anymore.
Although she is a beautiful young adult she will remain my baby; the little girl who would become excited over pink colored macarons. In her eyes, the dessert was created for her little tummy. To this day macarons have remained her favorite dessert snack. I dedicate this macaron post to her with much love.
Sydney and I humbly invite you to join us in Bobbie's Baking Blog's kitchen and share some  special moments!
 
Saved to