Mexican Fettuccini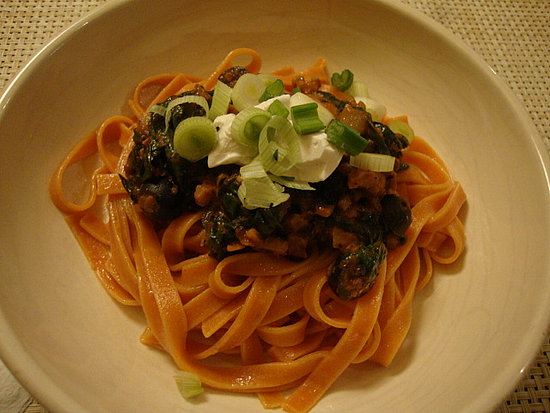 I've had some sun-dried tomato pasta in the pantry for a while, so I decided it was high time to do something with it, but any type of pasta will do for this meal. After taking his first bite, The Husband remarked, "Now that's a smorgasbord of flavors!" It was definitely flavorful and it seemed to gather steam with every bite!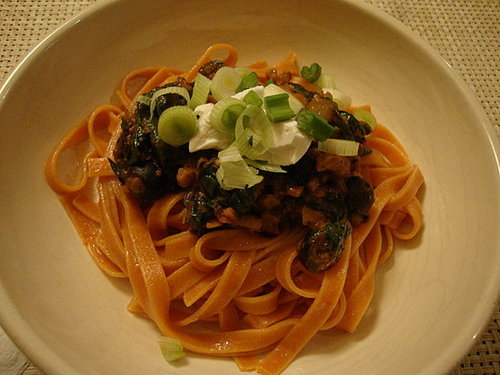 Original recipe
Mexican Fettuccini
Ingredients
8-oz sun-dried tomato fettuccini
1/2 C walnuts, chopped
1/2 C salsa
2 C spinach, chopped
1/2 C black olives, sliced
2 Tbs olive oil
2 Tbs nutritional yeast flakes
2 Tbs water
Salt and pepper, to taste
2 green onions, sliced
Tofutti sour cream
Cilantro
Directions
Cook pasta according to package instructions. In the meantime, in a medium sauce pan, toast the walnuts for about 3 minutes. Add the salsa, spinach, black olives, olive oil, nutritional yeast flakes, water, salt, and pepper. Combine well and let simmer on a low heat until spinach has cooked down and everything is heated through.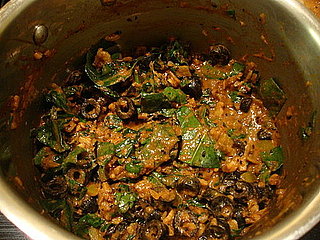 Top individual servings of pasta with the sauce, a dollop of Tofutti sour cream, cilantro and green onions. Enjoy!
Information
Category

Pasta, Main Dishes
Saved to