Mini Meatloaves
I have this coworker whom I love dearly, but the girl can barely turn on the oven, much less use it. I was showing her some of the meal ideas I had for this month and she was immediately intrigued by this recipe, so she decided to try it. And even with her lack of culinary skills, she said they were delicious and easy! She even brought them in the next day to show everyone what she had accomplished - and how good they were!
Plus, they're easy to fix to please everyone in your family.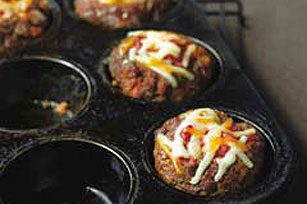 Kraft Foods
Mini Meatloaves
Ingredients
Take 1 lb. extra lean ground beef, 1 pkg. (6 oz.) Stuffing Mix and 1 cup water and mix & match your recipe from these options...
For Italian style add:
1 tsp Italian Seasoning
3/4 cup Spaghetti Sauce
3/4 cup shredded Mozzarella Cheese
For Mexican Style add:
2 tsp Chili Powder
3/4 cup Salsa
3/4 cup Shredded Mexican or Cheddar Cheese
For Greek Style add:
1 tsp Oregano
3/4 cup Chopped Red Pepper
3/4 cup Feta Cheese
For BBQ Style add:
1 tsp Garlic Powder
3/4 cup BBQ sauce
3/4 cup Shredded Cheddar Cheese
For a little kick, add 2 Tbsp. A.1. Original Steak Sauce to meat mixture before shaping into meatloaves.
Directions
PREHEAT oven to 375°F. Mix meat, stuffing mix, water and the seasoning until well blended. Press evenly into 12 medium muffin cups sprayed with cooking spray; make an indentation in center of each with back of spoon.
SPOON add-ins/additional style ingredients evenly into indentations in meatloaves.
BAKE 30 min. or until meatloaves are cooked through (160°F). Top evenly with cheese; continue baking 5 min. or until cheese is melted. Let stand 10 min. before serving.
To Make Ahead:
Prepare as directed. Remove from muffin cups; cool completely. Place in single layer on baking sheet; freeze until firm. Transfer to airtight container. Store in freezer up to 1 month. Thaw in refrigerator, then reheat in 375°F-oven for 20 min. or until heated through.
Information
Category

Main Dishes, Beef
Saved to