Modified Paula Deen Gumbo
i posted this a long time ago without a photo so i thought i would repost with some pics. this is an easy gumbo...just a little time consuming. but oh so tasty. i got it off of the food network's site. i serve it with salad, parmesan bread, and with a couple of spoonfuls of rice in the center of the bowl. yummy. you can cut time by buying frozen chopped green pepper and other shortcuts. i modify it in several ways. i added 1/2 teaspoon of ground cayenne pepper to it and splashes of hot pepper sauce. i also use smoked turkey sausage instead of regular smoked sausage. i didn't have fresh parsley, so i use dried. i chop up the stewed tomatoes as they cook a little and i used two cans instead of one since i love them. this recipe called for 8 cloves of garlic. i cut that in half because that's just too much garlic for me.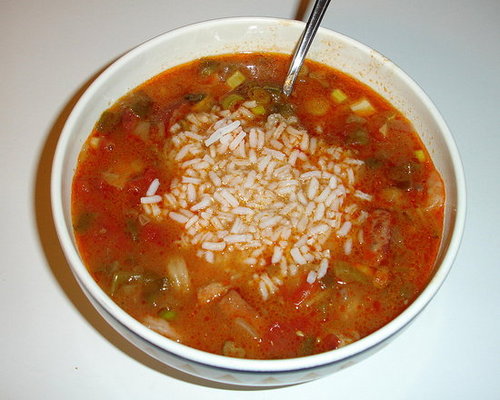 paula deen, the food network
Modified Paula Deen Gumbo
Ingredients
3 large boneless skinless chicken breast halves
Salt and pepper
1/4 cup vegetable oil
1 pound turkey smoked sausage, cut into 1/4-inch slices
1/2 cup all-purpose flour
5 tablespoons margarine
1 large onion, chopped
4 cloves garlic minced
1 green bell pepper, seeded and chopped
3 stalks celery chopped
1/4 cup Worcestershire sauce
1 T dried parsley
4 cups hot water
5 beef bouillon cubes
2 (14-ounce can) stewed tomatoes with juice
1 small box frozen sliced okra
4 green onions, sliced, white and green parts
1/2 pound small shrimp, i used frozen, they are added at the end
1/2 teaspoon ground red cayenne pepper
several splashes of hot pepper sauce
Directions
Season the chicken with salt and pepper. Heat the oil in a heavy bottomed Dutch oven over medium-high heat. Cook the chicken until browned on both sides and remove. Add the sausage and cook until browned, then remove. Sprinkle the flour over the oil, add 2 tablespoons of margarine and cook over medium heat, stirring constantly, until brown, about 10 minutes. Let the roux cool.
Return the Dutch oven to low heat and melt the remaining 3 tablespoons margarine. Add the onion, garlic, green pepper and celery and cook for 10 minutes. Add Worcestershire sauce, salt and pepper, to taste and dried parsley. Cook, while stirring frequently, for 10 minutes. Add 4 cups hot water and bouillon cubes, whisking constantly. Add the chicken and sausage and cayenne pepper. Bring to a boil, then reduce the heat, cover, and simmer for 45 minutes. Add tomatoes and okra. Cover and simmer for 1 hour. Just before serving add the green onions and shrimp.
g peppers, onions, and celery in the roux
almost ready
action shot of the bf eating gumbo...LOL!
Information
Category

Soups/Stews
Saved to