Mushroom and Kale Stroganoff
I saw this recipe this morning from
Healthy Exposures
and I knew I had to make it. It calls for some roasted red pepper hummus and I actually had some in the fridge, so it just had to happen. It also has two of my favorite ingredients: mushrooms and kale. I was sold. I doubled the recipe, as originally, it's for 2 servings. The fennel, I believe, was key. It gave the dish that stroganoff-beef taste, which surprised me, as I've only used fennel in chai flavoring. Be sure to check out Healthy Exposures' yummy vegan recipes, (plus
this original recipe
),wonderful photography and her beautiful horse, Teddie.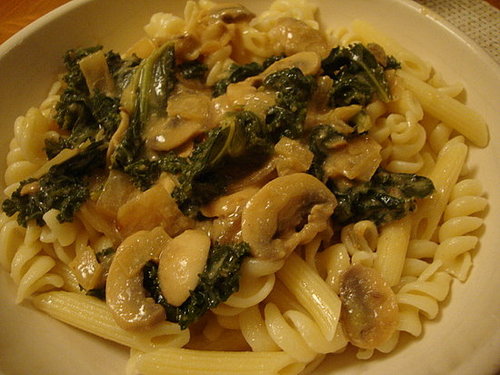 healthyexposures.wordpress.com
Mushroom and Kale Stroganoff
Ingredients
14-oz whole wheat pasta
1 large onion, chopped
2 tsp garlic, minced (I added this)
1 Tbs olive oil
3 C sliced mushrooms
6 large kale leaves, thinly sliced (I tore them up)
1/2 tsp fennel seed
salt and pepper, to taste
2 C reserved pasta water
2 Tbs white bean flour (I used garbanzo flour since that was all I had)
4 Tbs roasted red pepper hummus
1 Tbs pub-style Dijon mustard
2 Tbs nutritional yeast
Directions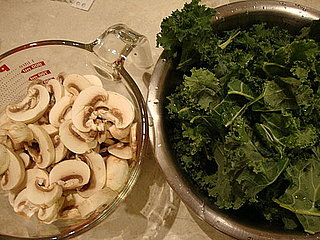 Cook pasta until
al dente
. In a large skillet, heat olive oil and add the garlic and onions. Saute until the onions begin to brown. Add the mushrooms, kale, fennel, salt, and pepper.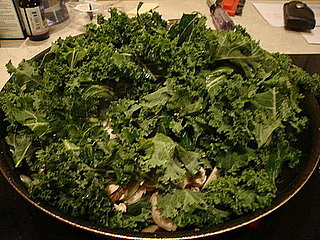 Ok, I went a little nuts with the kale, but I LOVE kale so much, I could not be stopped.
Add 4 Tbs of water and cover until kale cooks down. In a small bowl, whisk together the pasta water, flour, hummus, Dijon, and nutritional yeast. Once the kale mixture has cooked down, add the liquid mixture to it and simmer for about 10 minutes, or until it thickens.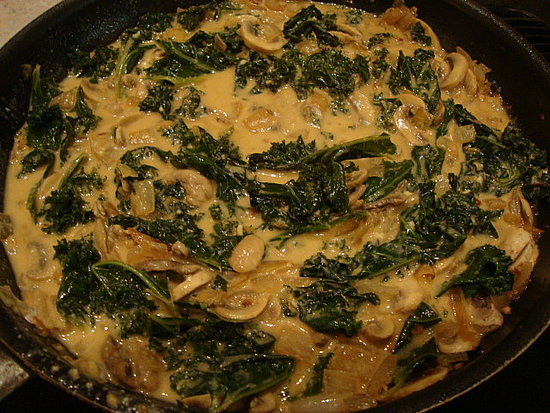 I then served this over individual servings of pasta and seasoned with a little salt and pepper. It was phenomenal! We all loved it. Enjoy!
Information
Category

Pasta, Main Dishes
Saved to