Mushroom Pate
After last weekend's market, I was looking for a someting new for the mushrooms I had picked up. Other must have been, too, because this recipe was included in this week's newsletter: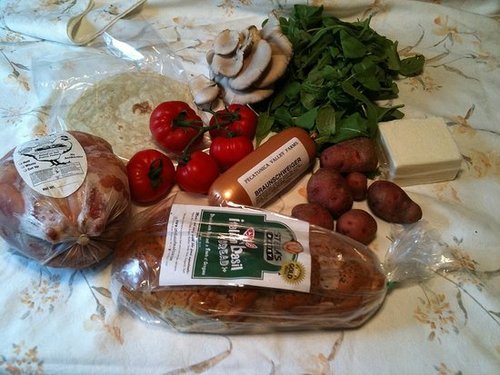 Ingredients
2 lbs of your favorite mushrooms
1 sweet onion chopped
2 cloves garlic (or 2 stalks green garlic)(or both and be proud)
2 T parsley
1 t fresh rosemary
2 T balsamic vinegar
1/2 cup pumpkin or sunflower seeds (almonds or pine nuts are fine too)
salt &pepper
Directions
Saute all  of the above (in enough olive oil to film the pan) until the mushrooms are  browned and their moisture has evaporated.
Buzz in food processor until smooth.
Taste and adjust salt and pepper.  Add more balsamic vinegar if needed .
*If you are using as a dip, chill to firm texture.  Wonderful as a pasta sauce.
Information
Category

Appetizers, Spreads
Saved to