Mushroom Quinotto stuffed Mushrooms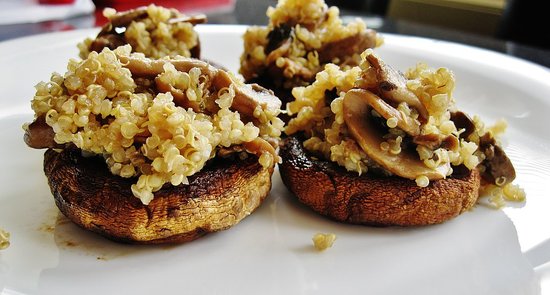 5 ingredients! That's it!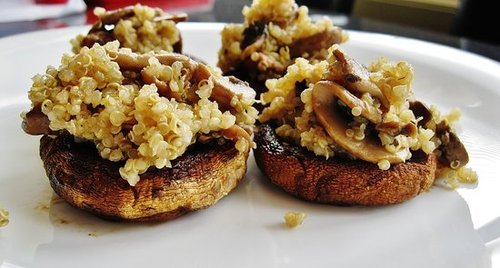 Original
Mushroom Quinotto stuffed Mushrooms
Ingredients
Mushrooms, about 500g
1/2 c dry quinoa
2 tbsp olive oil
2 garlic cloves
Pinch of sea salt
Directions
For grilled mushrooms:
Preheat oven to 200 C. Grab four BIG mushrooms, rinse, and remove "stems". In a bowl add 1 tbsp olive oil, coat the mushrooms in it, place on tin foil and into the oven.Turn every 5 minutes for a total of 25 minutes.
Mushroom quinotto:
Rinse quinoa and set aside. Rinse mushrooms, slice and place in a bowl. Sprinkle with sea salt. Heat 1 tbsp olive oil in a medium sized pot, and chop 2 garlic cloves. Add the garlic, reduce heat and cook for 1 minute. Add mushrooms, stir well and cover. Keep stirring every few minutes until all the water has been absorbed. Add quinoa and 2 cups water to the pot, stir and cover. Cook for 15-20 minutes, or until water has been absorbed.
The quinotto and grilled mushrooms will be done around the same time. Take mushrooms out of oven, place on plate and fill with quinotto. You can add salt and pepper, but I didn't find it necessary although next time I will grate a lemon so it gives it a special zesty flavor :) It can easily be un-veganized by topping the quinotto with parmesan or goat cheese...
Information
Category

Main Dishes
Saved to