Mustard Green and Cheeze Filo Pie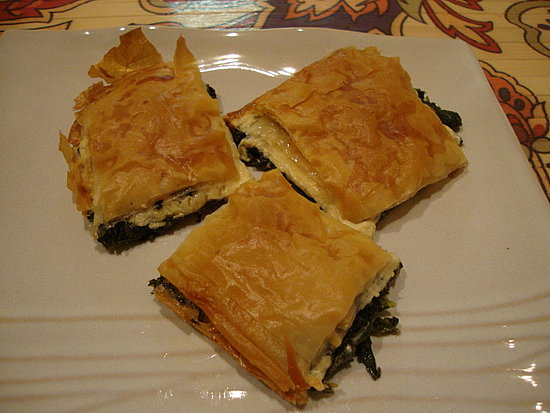 I've moved onto another obsession. Filo (or phyllo) dough. Oh my gosh . . . the possibilities! I veganized this recipe from Sunset magazine and after one bite, we quickly realized I should have doubled, if not tripled the recipe. My mind is going a mile a minute thinking of different ways to create filo pies, so expect more!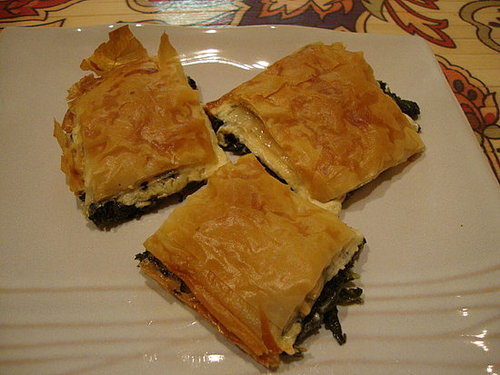 Adapted from Sunset Magazine
Mustard Green and Cheeze Filo Pie
Ingredients
2 lbs mustard greens, chopped
1 Tbs olive oil
1/2 tsp salt
1/2 tsp pepper
1/4 C Earth Balance, melted
6 sheets thawed filo dough, cut in half
1 C Daiya mozzarella
Directions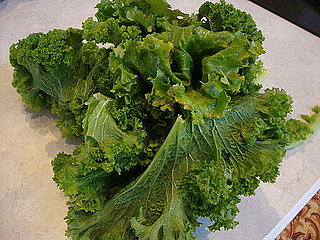 Steam the greens (may have to do in batches), then transfer to a large bowl of ice water. Drain and squeeze as much water out of the greens as possible. You'll be left with a ball of damp greens, but just pull and shake apart.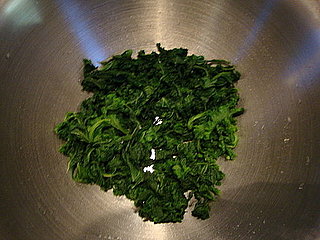 Preheat oven to 375. In a bowl, stir greens with the olive oil, salt, and pepper. Butter an 8″ square baking dish and lay one filo square in bottom. You'll have 2 edges that are a bit longer–that's ok. Brush lightly with butter—this is where  you can brush those extra edges down and basically fold them over. Layer on another 5 pieces of filo, but alternate the directions that you lay them down, so that the excess edges are alternated each time. Butter each layer as you add it on.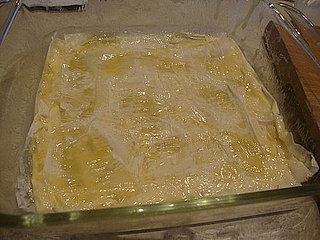 Next, spread the greens on evenly, then the cheese.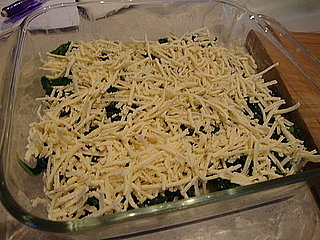 Layer on the rest of the filo dough, buttering each layer like before. Then cut through all the layers into 9 pieces.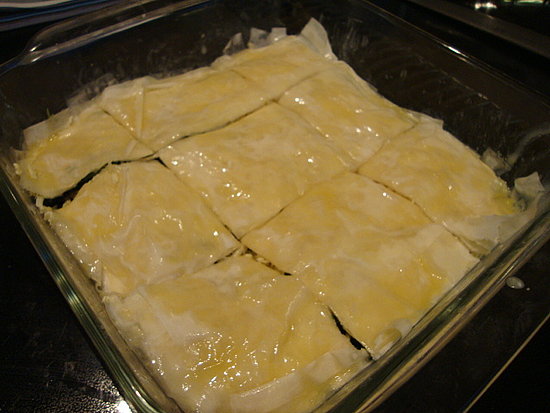 Bake for 40 minutes, or until the top is golden brown. Let cool 5-7 minutes before serving. You will love these—guarantee! Enjoy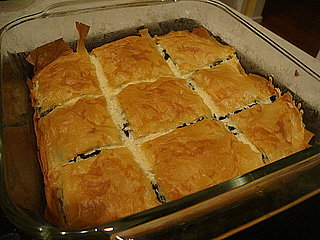 VARIATION: I've made this a couple of times using frozen spinach. I like Cascadian Farms brand which is boxed, but the spinach inside is kept in a sealed plastic bag—makes it easy to thaw. Drain and squeeze out the liquid and prepare the same way as the mustard greens. I often double it and make a 9×13 dish of it—the uncut phyllo dough sheets are perfect for this sized dish.
Information
Category

Appetizers, Puff Pastry
Saved to