My Dual Desk at Home
I recently moved into a new apartment that for the first time, allowed me to have a proper office space. My fiancé and I both needed a space of our own (instead of sharing a single desk), since we often are working from home at the same time. We decided to go with a long desk that ran the length of our den wall, and separate the space with a chic red file cabinet. The second shelf you see there is actually two Ikea wall shelves that we DIY'd with four small pipe-style desk feet we found in the Ikea marketplace. The whole setup cost under $250 (including the file cabinet). We hooked up our speakers to run on either side, and I have a corkboard for any inspiration I get for our wedding planning, or general things I want to blog about. The glowing thing in the middle there is our external hard drive.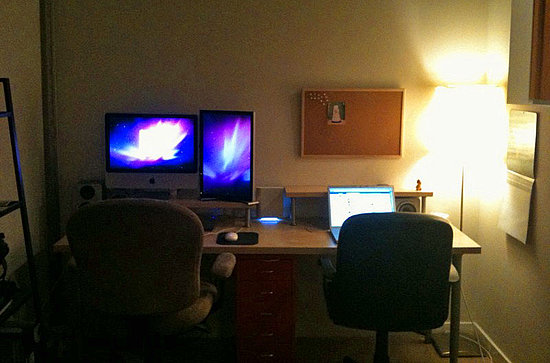 My fiancé is rocking an iMac with a secondary monitor, and while I just use my laptop, but am considering a second monitor for the shelf as well. It works great for us!
Saved to