New Enhancements
Hi! Noticed a couple changes on PopSugar? We've made some enhancements to our dropdown menus and incorporated our new PopSugar City sites into our top navigation. PopSugar City is your place for what's happening around your city! In addition to latest reviews of stores, and restaurants, We have PopSugar City in San Francisco, New York, Los Angeles, and Chicago...your city might be next!
In addition to this new site, we made a couple changes to the black bar at the top of the page; you will also notice My Tracker is now called News Feed. Don't worry, it works exactly the same, we just updated the name and made it a little easier to find the latest content from our editorial sites, community groups, and OnSugar blogs.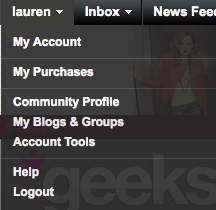 We cleaned up your member name dropdown too:
My Account: change your email, password, and user name. My Purchases: keep track of all of the latest deals you have bought from the PopSugar City sites.
Community Profile: visit your PopSugar profile page.
My Blogs and Groups: see all of the groups you joined and blogs you have started.
Start a new group by visiting My Blogs and Groups too.
Account Tools has several different tabs including Profile tab, where you can change the information displayed on your profile page; Notifications, where you can change any emails or private messages you receive; and Post by Email, where you can set up posting by email to your Community Group or Blog. Facebook: connect your Facebook account to your community groups or OnSugar blog. Twitter: connect your Twitter account to your community group or OnSugar blog.
Help: view our FAQ for PopSugar City, community groups, or even OnSugar blogs.
Saved to