Nigella's Pollo Alla Cacciatorra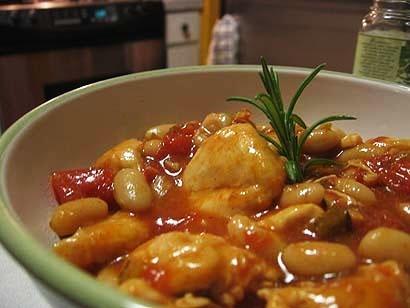 Let's face it, Nigella Lawson IS the queen of comfort food! I just love the way she cooks in the kitchen, the way she enjoys life eating only the most delicious food she can make - all sorts of words come to mind when describing her food "luxious" "rich" "lovely" "decadent". She has so much passion for whatever she's doing, always. So for dinner bring that into the kitchen with this Italian dish that is delicious and total comfort food! :)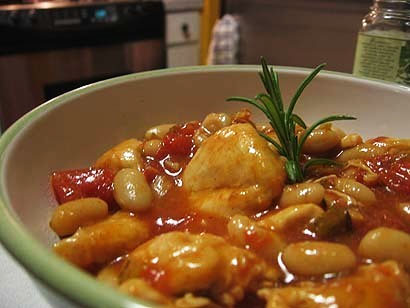 http://freakindelicious.com
Nigella's Pollo Alla Cacciatorra
Ingredients
1 tbsp garlic oil
1/2 cup pancetta/bacon cubes
6 scallions, finely sliced
1 tsp finely chopped fresh rosemary leaves
1 lb chicken thigh fillets, each cut into 4 pieces
1/2 tsp celery salt
1/2 cup white wine
1 (14-ounce) can chopped tomatoes
2 bay leaves
1/2 teaspoon sugar
1 (14-ounce) can cannellini beans
Directions
1. Put the garlic oil into a pan with the pancetta, sliced scallions and chopped rosemary and fry for a couple of minutes.
2. Add the bite-sized chicken pieces, stirring well, and sprinkle in the celery salt.
3. Pour in the wine and let it come to a bubble before adding the tomatoes, bay leaves and sugar.
4. Put the lid on and let the pan simmer for 20 minutes.
5. Drain and add a tin of cannellini beans and when they have warmed through too, you are ready to eat.
...and here's a video of Nigella making this dish!
Information
Category

Poultry, Main Dishes

Cuisine

Italian
Saved to