Oatmeal Banana Muffins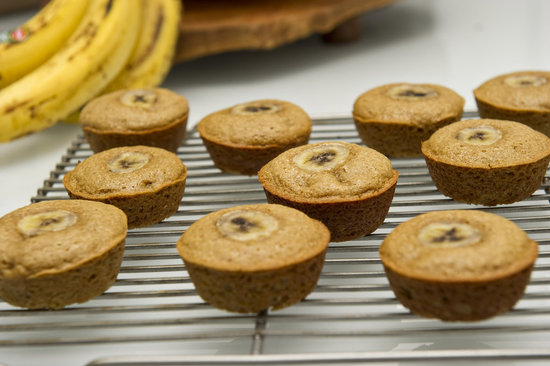 Around our house, perfectly ripe bananas are like gold! When they reach that optimal level of ripeness- perfectly sweet and easily mashable- its on! Gavin and I race the the fruit bowl in the morning…I want the ripe banana for baking- he wants it to flavor is morning bowl of oats.
This morning, I won! But, being the oh-so-loving wife that I am- I used my prize to whip up one of Gavin's favorite muffins- Banana Oatmeal Muffins (Basically his banana oats in muffin form!) He tops them with a spread of peanut butter and occasionally a little swirl of honey. YUM!
These muffins are really easy to prepare- really good for you- and can also easily be made into bread (just pour the batter in a greased (with coconut oil) bread pan!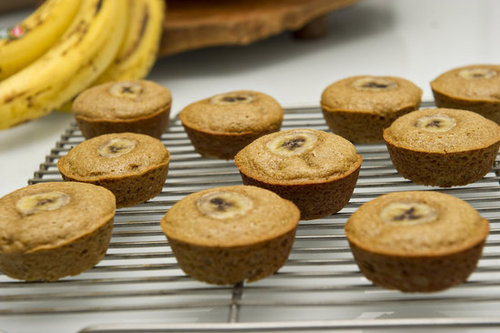 Ingredients
2 C oat flour (just grind your oats in the blender)
1 t baking soda
1 t baking powder
1/2 t sea salt
1/2 C brown sugar or evaporated cane juice
1 egg
2 T coconut oil
1/2 C milk of choice
1 large very ripe banana
1 small not as ripe banana for the top (optional)
Directions
Preheat the oven to 400 degrees. Spray your muffin tin with cooking spray or rub with coconut oil.
In a large bowl combine the oatmeal, baking soda, baking powder, and salt. In a small bowl combine the brown sugar, egg, coconut oil and milk. Pour the wet ingredients into the dry ingredients and mix until incorporated. Now, gently fold in the banana.
Pour the batter into prepared muffin tins. Now, slice your not as ripe banana very thin and top each muffin with a slice of banana.
Bake for 14-18 minutes.
Information
Category

Breads, Muffins
Saved to