Oeufs en Cocotte (Baked Eggs in Cream)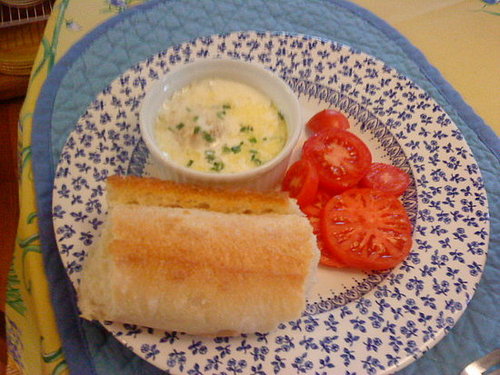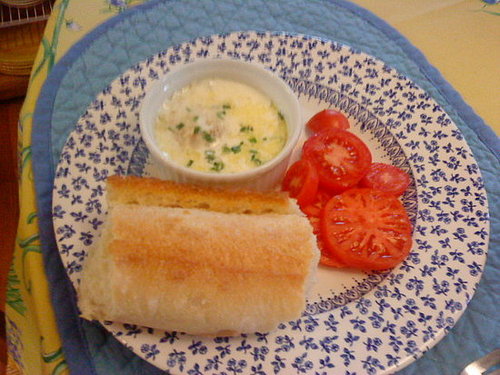 William-Sonoma Paris: Authentic Recipes Celebrating Foods of the World
Oeufs en Cocotte (Baked Eggs in Cream)
Ingredients
1-2 tablespoons unsalted butter, at room temperature
8 eggs
1-1 1/2 tablespoons chopped fresh chives
Salt & freshly ground pepper
1/4 cup heavy cream (aprox)
1/4 Comte` or Gruyere cheese, shredded (aprox)
2 tablespoons grated Parmesan cheese (aprox)
Directions
1. Preheat oven to 375 F degrees. Bring a teakettle filled with water to a boil.
2. Place four 3/4 cup (6 fl oz) ramekins or custard cups in a large, deep baking pan. Place a generous dab of butter in the bottom of each ramekin, and then break 2 eggs into each ramekin. Sprinkle the eggs evenly with the chives, season with salt and pepper, and drizzle evenly with the cream. Top each ramekin with a sprinkle of both cheeses.
(I didn't have the right size ramekins so I put three eggs in a larger dish and one egg in a smaller one.)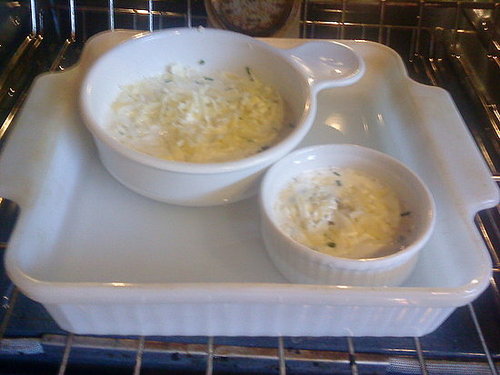 3. Pour boiling water into the baking pan to reach about halfway up the sides of ramekins and cover the pan with a large baking sheet or aluminum foil. Bake the eggs until the whites are firm and the yolks are still soft and runny, about 10 minutes. To test for doneness, softly touch an egg with your fingertip, or shake a ramekin gently. If the egg wobbles slightly, it is ready. If you prefer firmer eggs, bake them for 1-2 minutes longer.
4. Carefully remove the baking pan from the oven, then quickly and carefully remove the ramekins from the water bath, serve at once. Makes 4 servings. (I served with tomato slices and warmed baguette)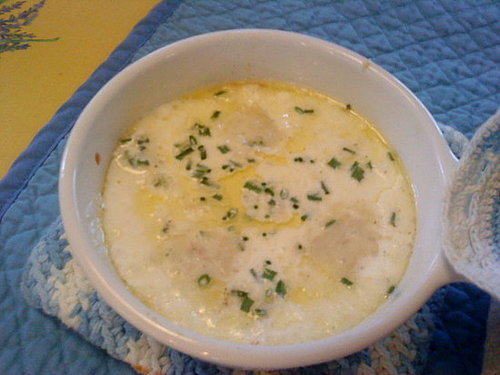 Note: I may have put more cream than I should have, which made it hard to tell when the eggs were done (next time I will touch the yoke to test instead of jiggling the dish). I overcooked them but the flavor was still amazing. Next time I will use the right size dish and cook the amount of time called for or only a min or two more.
Information
Category

Eggs, Breakfast/Brunch

Cuisine

French
Saved to