Orange + Carrot Pancakes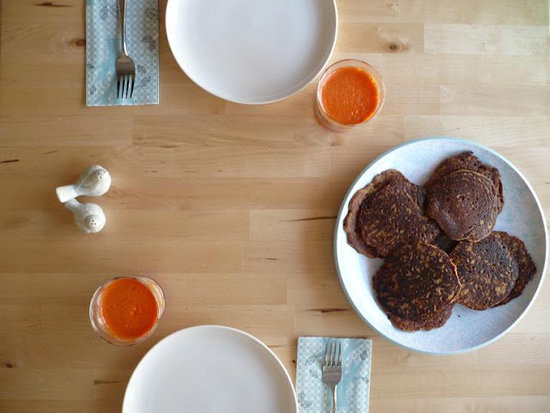 These little pancakes are the perfect thing for spring! Zesty orange and sweet carrots flavor these whole grain pancakes that are gluten free, vegan, and refined sugar free!!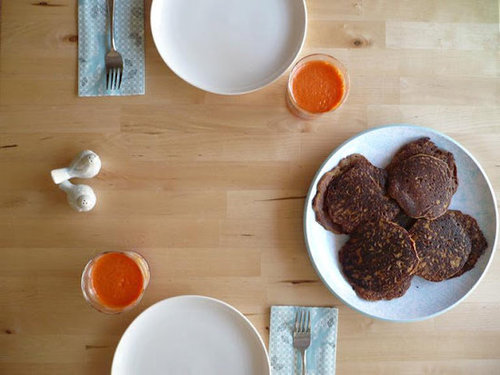 Ingredients
4 oz teff flour
2 oz brown rice flour
2 oz millet flour
2 tsp baking powder
1/2 tsp fine grain sea salt
1/2 tsp ground ginger
4 oz mashed bananas (or 2 eggs)
2 tbsp brown rice syrup
4 oz fresh carrot juice
4 oz rice milk
2 oz warmed coconut oil
zest of 2 small oranges
more oil for cooking the pancakes
Directions
notes: The batter for these is quite thick, so be sure to flatten it out/spread it out immediately after putting it in the pan. Once the first side cooks up, it easily flips and is good to go! I used 2-3 tbsp of batter per pancake, which made about 12 three inch pancakes. I think it's better to leave these smaller because the thickness of the batter gives them the tendency to want to fall apart. If you leave them smaller, you'll have no problems :)
-------
Whisk together the flours, baking powder, salt, ginger, and orange zest in a large bowl until combined. In a separate smaller bowl, whisk together the mashed bananas, brown rice syrup, carrot juice, rice milk, and coconut oil until combined. Add the wet ingredients to the dry ingredients and mix until the batter just comes together. It will be quite thick. In a skillet over medium heat, add a bit of extra oil and then 2 to 3 tbsp of the batter. Quickly smooth out the batter (it won't spread much by itself) into a circle and cook until bubbles are showing and the top is puffed, about 2-3 minutes. Carefully flip the pancake and cook on the other side an additional 1-2 minutes until golden brown. Continue until the rest of the batter is gone. Makes about 12 three-inch pancakes. Enjoy!
Information
Category

Breakfast/Brunch, Pancakes/Waffles
Saved to