Oregon Chai
Before eliminating dairy, I loved Mystic Chai, but since it's loaded with milk products, I had to find another brand. I really like Oregon Chai and the amount of different products they offer. I tried the Original and used Rice Dream, but I found that it was too thin, so I think soy milk would be better for a thicker chai. They have a Chai and Apple Cider one that is great and you just mix it with water. They have a wonderful website with lots of recipes and information--I recommend checking it out. http://www.oregonchai.com/
Chai Tea Latte Concentrates:
The #1 Chai in America is now available in an easy-to-prepare tea concentrate. With Oregon Chai Tea Latte Concentrates, you can enjoy chai, the fastest growing product in the tea category. It's easy to prepare and comes in flavors to please any palate. When mixed with equal parts of milk or soy, our latte concentrate creates a sweet, spicy, creamy beverage that you can enjoy morning, noon or night. To drink hot, heat mixture using stove top or microwave. To drink cold, pour the mixture over ice.
Oregon Chai Tea Latte Concentrates are available in 9 flavors, including two seasonal favorites: Original, Slightly Sweet Original, Caffeine-Free Original, Organic Original, Kashmir Green Tea, Java Chai, Cocoa Chai, Chai Nog and Chai Cider. Each 32 oz. carton is USDA Certified Organic and shelf-stable until opened.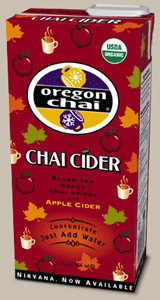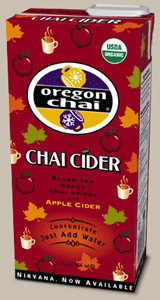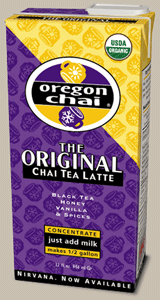 Saved to