Paleo Pumpkin Chocolate Chip Cookies!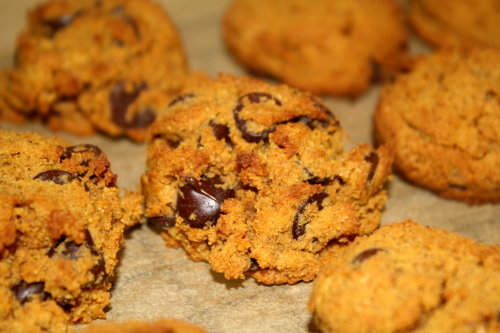 They melt in your mouth, not in your hands. For real.
I'm really loving the dark chocolate/pumpkin combination right now. Actually, I'm just really loving sweet things right now…and I'd rather make my own, relatively sweet thing, than eat a girl scout cookie that's been in my freezer for 9 months.
So, I made some pumpkin chocolate chip cookies.
Pumpkin Chocolate Chip Cookies (adapted from Food Lover's Primal Palate)

1/2 cup coconut flour
1/2 cup maple syrup
1/2 cup canned pumpkin
1/2 cup butter, melted
1 Tbsp vanilla extract
1/2 tsp sea salt
1/2 tsp baking soda
1  1/2 tsp cinnamon
1/2 tsp nutmeg
1/4 tsp ground cloves
1/4 tsp ground ginger
1 cup dark chocolate chips (I used Guittard 63% cacao)
Preheat the oven to 350 F
In a large bowl, mix the melted butter, pumpkin, maple syrup and vanilla until well combined
In a small bowl, mix the coconut flour, baking soda, salt and spices.
Gradually add the dry ingredients to the wet, making sure to mix with a hand mixer or vigorously with a spoon to avoid clumps
Add your chocolate chips
Plop on a parchment lined baking sheet (I use a nifty scoop that spoons out about 1 Tbsp of batter, so I ended up with about 30 tiny cookies)
Bake for 15 to 20 minutes
Allow to cook on a wire rack.
The end
For more recipes like this one, check out my healthy living blog, Frisky Lemon!
Saved to