Parsley Meatballs/Keftethes
(makes about 3 dozen). They are great with cheese and potatos! Try it!!!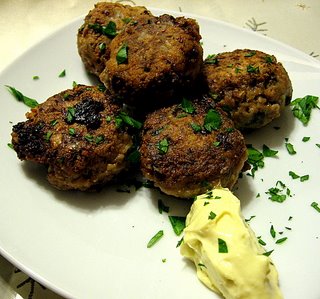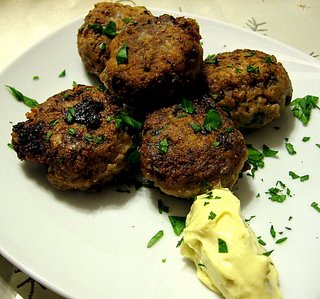 cookbook
Parsley Meatballs/Keftethes
Ingredients
1 to 2 tablespoons olive oil
1 medium-sized onion, finely chopped
1 cup soft white bread crumbs
1/2 cup water
2 eggs
2 garlic cloves, minced
1 teaspoon salt
1 teaspoon dried oregano
3 tablespoons finely chopped fresh parsley
2 pounds lean ground beef or turkey
3 tablespoons red wine vinegar
Freshly ground pepper
Fresh or dried oregano
Directions
In a skillet, heat the oil and saute the onion until soft; turn into a bowl. Add the bread crumbs, water, eggs, garlic, salt, oregano, and parsley, and mix well. Add the meat and mix thoroughly. Shape into balls about 1 inch in diameter. Saute the meatballs in the remaining oil, turning to brown all sides. Transfer to a serving dish. Pour the vinegar into the pan and bring to a boil, scraping up the drippings; pour over the meatballs. Grind fresh pepper over and sprinkle lightly with fresh oregano.
Quantity Tip: Place the shaped meatballs on a baking pan and bake them in a 425 oven for 20 minutes or until cooked through. In a small saucepan boil the vinegar until reduced by half, add the pan drippings, and heat until blended. Pour over the meatballs in a serving dish.
Information
Category

Other, Main Dishes

Cuisine

Greek
Saved to