Pasta with Almond Parmesan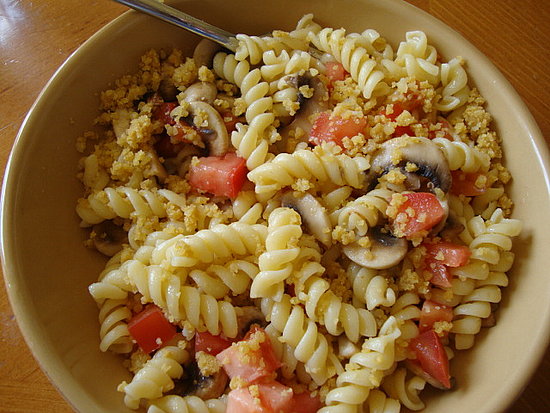 This has always been one of my favorite go-to lunches or quick dinners. I tend to have the almond Parmesan, from The Ultimate Uncheese Cookbook, in the fridge because it's delish and so easy to make. It's packed with B vitamins (nutritional yeast) and protein (almonds). I also use low-carb, whole-wheat pasta when possible and the beauty of this, is that you can make as little, or as much as you want.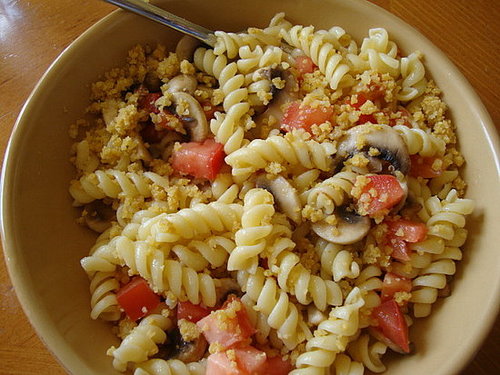 Original recipe/The Ultimate Uncheese Cookbook
Pasta with Almond Parmesan
Ingredients
Cooked pasta, any variety
Mushrooms, sliced and lightly sauteed
Tomato, diced
Earth Balance margarine
PARMEZANO SPRINKLES:
1/2 C blanched almonds
2 Tbs nutritional yeast flakes
1-2 tsp light miso
Heaping 1/4 tsp salt
Directions
To make the Parmezano Sprinkles: place the almonds in a small saucepan and cover with water. Bring to a boil for 1-2 minutes, then drain them; rinse with cold water. When pinched between your fingers, the skins will slide right off. Dry off with a paper towel and place the almonds in a food processor; grind to a fine powder. Add remaining ingredients and pulse several times to incorporate everything. Store in an airtight container in the refrigerator; will keep for a month or so and can be frozen.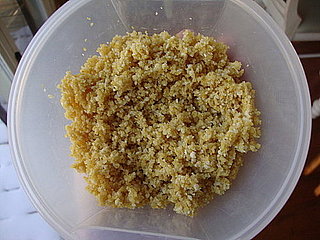 Cook pasta according to instructions on package. In the meantime, saute the mushrooms a little. Once pasta is cooked and drained, add a little Earth Balance to the pot and coat the pasta. Stir in the mushrooms and tomatoes; let the tomatoes heat through a minute or two. Serve with Parmezano sprinkles on top! Enjoy!
Information
Category

Pasta, Main Dishes
Saved to