Pasta with Turkey Meatballs
makes a great alternitive to the fats compared to the hamburger
Work gently when making the meatballs and don't overmix or they'll be tough.
4 servings
PER SERVING: 820 calories, 16 g total fat (4.5 g saturated fat), 51.5 g protein, 119.5 g carbohydrate, 140 mg cholesterol, 2250 mg sodium, 8.5 g fiber
cook book
Pasta with Turkey Meatballs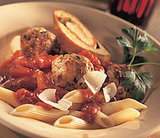 Ingredients
MEATBALLS
1 lb. ground turkey breast
1 small yellow onion, minced, divided
1 egg
1/3 cup fine dry bread crumbs
1/3 cup chopped fresh parsley
2 garlic cloves, minced
2 teaspoons finely chopped fresh oregano or
1/2 teaspoon dried
2 teaspoons finely chopped fresh basil or 1/2
teaspoon dried
2 teaspoons finely chopped fresh rosemary or
1/2 teaspoon dried
1 teaspoon salt
1/2 teaspoon pepper
SAUCE
1 (12-oz.) pkg. penne or ziti (tube-shaped pasta)
1 (28-oz.) jar spaghetti sauce with herbs
1 tomato, diced
1/2 cup grated Parmesan cheese
Directions
1. Heat oven to 500ºF. Line 15x10x1-inch pan with foil; spray with cooking spray.
2. Combine all meatball ingredients until well-blended. Shape into 24 (1-inch) meatballs. Arrange in single layer pan. Bake 10 minutes or until meatballs are no longer pink in center.
3. Meanwhile, cook penne according to package directions; drain.
4. Bring spaghetti sauce and tomato to a boil in large saucepan. Add meatballs with any drippings and penne. Sprinkle each serving with cheese.
Saved to