Peanut Butter, Chocolate & Cherry Granola Bites
Jess at Healthy Exposures posted these last week, and I knew right away I had to try them. I made a few changes, just based on what I had on hand and on my taste preferences, such as subbing brown rice syrup for the molasses, as I'm not big on molasses. You can see her original recipe here.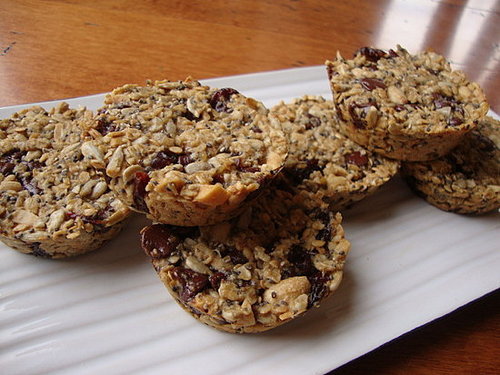 Adapted from Healthy Exposures
Peanut Butter, Chocolate & Cherry Granola Bites
Ingredients
3/4 C quick oats
2 Tbs brown rice flour
2 Tbs wheat germ
1/2 C peanuts, chopped
1/4 C sunflower seeds
1/4 C chia seeds
2 Tbs flax seeds
1/2 C dried cherries, chopped
1/2 C dark chocolate chips
1/2 a banana
2 Tbs brown rice syrup
3 Tbs almond milk
3 Tbs peanut butter
1 tsp vanilla
Directions
Preheat oven to 350. Lightly grease a mini-muffin pan (genius idea, Jess)! Set aside. In a large bowl, combine oats, flour, wheat germ, peanuts, seeds, cherries, and chocolate chips.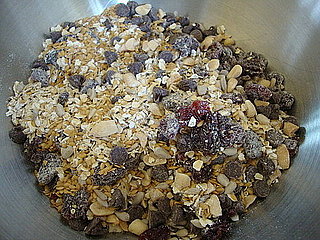 In a smaller bowl, mash the banana with a fork add the syrup, almond milk, peanut butter, and vanilla. Whisk thoroughly and combine well with the dry ingredients.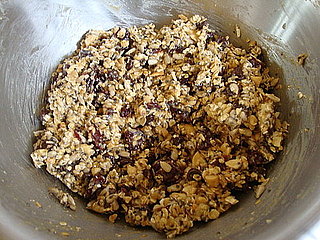 Fill the muffin cups with the mixture, pressing down firmly with a spoon. I didn't fill them quite to the top, but you can—they won't overflow when they bake. Depending on the size of muffins cups you use, the number you get will be different; I got 15.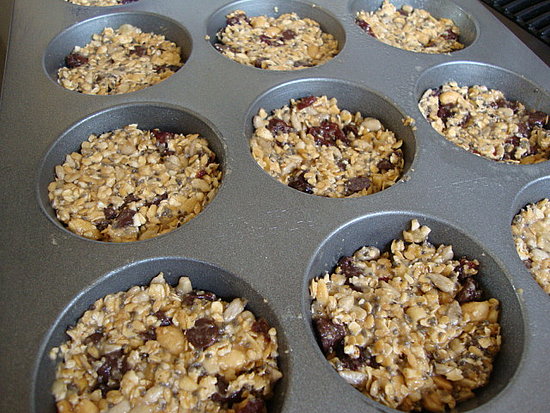 Bake 15 minutes, or until the tops turn a golden brown. These make such a great little snack and I imagine, a heck of a lot healthier than store-bought granola bars. As an alternative, you can use a 8″ baking pan and then cut them into squares after they bake. Either way, you're sure to enjoy them, especially since they're so simple to make.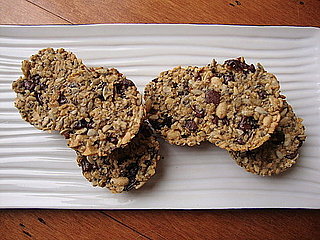 Information
Category

Other, Snacks
Saved to