Peanutty Tofu Roll-Ups
These wraps are excellent for a fresh and quick meal that you can customize to your liking. The recipe comes from 1000 Vegan Recipes, but I altered it a little, as I thought it was too peanut buttery. You can add your own favorite veggies to make your perfect wrap.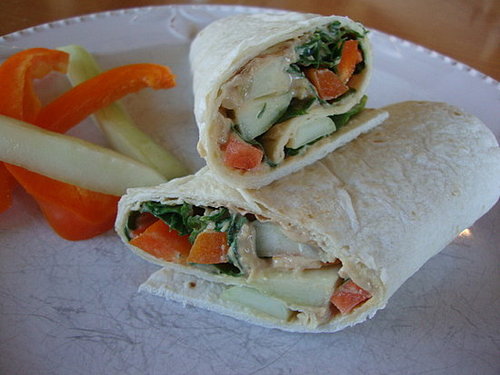 Adapted from 1000 Vegan Recipes
Peanutty Tofu Roll-Ups
Ingredients
8 oz firm tofu, drained and patted dry
2/3 C peanut butter (I used just a 1/3 C–and crunchy, too. The food processor smooths it out anyway)
1 Tbs soy sauce (I used tamari)
1 Tbs lime juice
1/2 tsp grated ginger
1 garlic clove, minced
1/4 tsp cayenne
1 Tbs yellow miso (I added this)
4- 10″ tortillas or lavish bread
Veggies I used: spinach, sliced carrots, sliced cucumber, and sliced orange bell pepper
Directions
In a food processor, combine the tofu, peanut butter, and tamari; process until smooth. Add lime juice, ginger, garlic, and cayenne; continue to process until smooth and well blended. Leave for 30 minutes at room temperature to allow flavors to blend.
Assemble the wraps by spreading some tofu mixture on a tortilla, add your favorite veggies, wrap up, and slice in half. Enjoy!
Information
Category

Main Dishes, Tofu
Saved to