Pesto and Green Olive Pasta Salad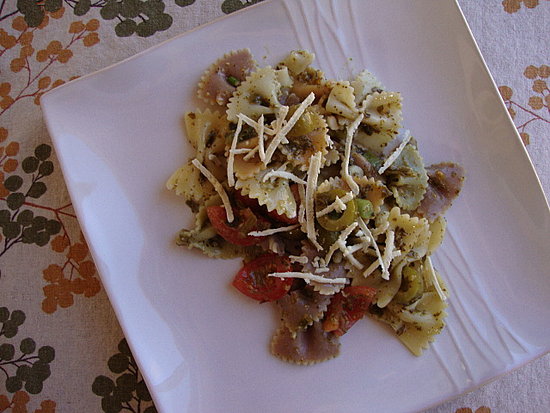 It's so nice to be back home after two weeks; particularly, back in the kitchen. I escaped the snow to California, now I'm back in it and to add insult to injuries, we're to have a high of 12 degrees today. Minus 18 is predicted tonight. Yippee. I hate winter. I made this salad for a fund-raising event because it was quick and easy, but now I'm thinking it was really my way of sticking it to Old Man Winter. Who says who can't have a summery pasta salad during the ugly winter months? Certainly not me. I love to make pasta salads so that they last a few days in fridge, providing a quick snack or lunch when I don't have a lot of time. I used a 10-oz bag of Garden Time organic, colored/veggie bowtie pasta and another 4-oz of regular bowties. Oh, and did I mention that it's snowing right now? This means you'll probably be seeing lots of baked recipes and soup recipes from me in the coming days . . .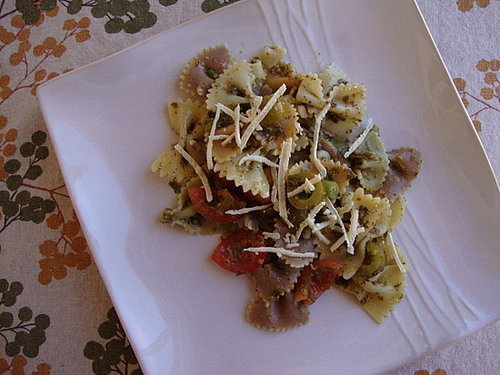 Original recipe
Pesto and Green Olive Pasta Salad
Ingredients
14 oz bowtie pasta
1-1/2 C pesto, jarred or homemade
8 green onions, slices (both white and green parts)
2 C halved or quartered cherry tomatoes
1-14oz can green olives, sliced
1/2 to 3/4 C Daiya mozzarella
Salt and pepper, to taste
For some crunch, add some pine nuts or toasted walnuts or almonds
Directions
If not using jarred, make pesto. Cook pasta according to package instructions. Drain and rinse with cold water. In a large bowl, combine green onions, tomatoes, and olives.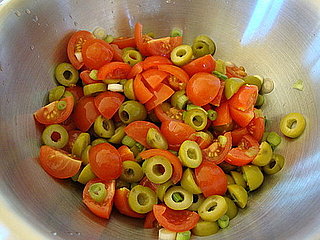 Stir in the cold pasta, pesto, salt and pepper. Stir in the cheese and enjoy!
Information
Category

Salads, Pasta
Saved to