Pineapple Fried Rice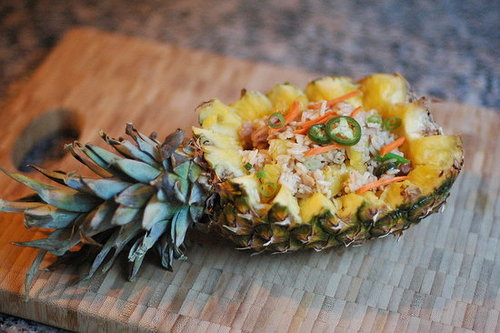 Original Recipe From YumSugar
Pineapple Fried Rice
Ingredients
2 cups leftover rice, if you don't have it leftover, make an hour or so in advance
1 whole fresh pineapple
2 slices thick-cut bacon, diced
1 jalapeno pepper, thinly sliced
1 green onion stalk, thinly sliced
1 carrot, thinly sliced
2 garlic cloves, minced
peanut oil
4 boneless, skinless chicken thighs (or 2 breasts), cut into small chunks
1 1/2 teaspoons fish sauce
2 teaspoons soy sauce
1/2 teaspoon sriracha sauce
Directions
Slice the top 1/3 of your pineapple off lengthwise.
Use a paring knife, remove the pineapple flesh, leaving about 3/4 inch on all sides. You are essentially trying to create a bowl. Set the pineapple flesh aside.
Once you have the flesh removed (I ended up using a grapefruit spoon to help get some of it out), use a paring knife to create a decorative edge on the pineapple. It's not necessary, but your presentation will look polished. Set pineapple bowl aside.
Dice the pineapple flesh. You can go big or small depending on your preference. Keep about 1 cup of diced pineapple for the recipe, feel free to snack on the rest. Place in small bowl and drain pineapple juice into large bowl.
Place chicken chunks into bowl with pineapple juice, add fish sauce, soy sauce, sriracha. Mix well to coat. [Note: the amounts used here were a guestimate. If you like the taste of soy sauce add more, if you dislike fish sauce omit, if you want it spicy add more sriracha, etc. Basically season the sauce to your liking.]
Heat a large frying pan over medium heat. When evenly heated add bacon, garlic, 1/3 of the green onion, and 1/3 of the jalapenos. Stir until evenly cooked. Remove bacon mixture from pan and set aside on a plate (I put paper towels down first to drain some of the excess oil).
If your pan has an excessive amount of oil, you can drain it at this time or use paper towels to wipe it down. Add a bit of peanut oil. Alternatively leave the bacon oil and use it to cook the chicken.
Heat oil until it is shimmering, add chicken and carrots. Stir until nearly cooked. At this point, add half of the remaining jalapenos and green onions. Cook throughly.
When chicken is fully cooked, add the bacon mixture to the pan. Stir well to combine ingredients.
Add pineapple and stir to incorporate.
Add rice, making sure to break up any large clumps.
If you do not have enough liquid in your pan or the rice looks too dry, add a bit more soy or fish sauce. Just go easy on the fish sauce, that stuff gets salty really fast.
When mixture is fully combined, and rice is heated through, remove from heat.
Scoop rice into pineapple bowl, garnish with remaining jalapenos and green onions. Enjoy!
Information
Category

Rice, Main Dishes

Cuisine

Other Asian
Saved to