Porter the Puppy Stuffed Chair (Sale $54.60)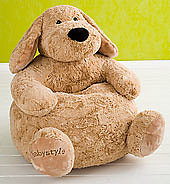 A TeamSugar gift!
A doggone darling seat! Little ones love our Original Stuffed Chairs. Porter the Puppy is super soft and totally cozy - sure to be their favorite pet!
With velvety-soft fur, big floppy ears, silly button eyes and a big puppy nose, Porter is a favorite among petite puppy lovers - and an excellent companion for backyard camping, rainy day art projects and tea parties!
Don't be fooled by the copycats out there - our original stuffed chairs are sweeter, stronger and infinitely more cuddly - for over $40 less!
How big is it? Porter measures approximately 21 inches by 21 inches.
Age Range: Newborn and up
Read More
Saved to