Portobello Fries with Lemon Garlic Aioli
I was watching Martha Stewart's show last night, in which she made Portobello mushroom fries. As a big foodie, I was suprised that I'd never seen or heard of this recipe before. I googled around to find others and thought this one by the Denver Post looked simple. Plus, they complimented the fries with a lemon garlic aioli (my weakness), which I think tastes fantastic on most fried foods. Martha's recipe called for a ponzu dipping sauce, which I've also included in this post.
Enjoy!
http://www.denverpost.com/recipes/ci_8845096
Portobello Fries with Lemon Garlic Aioli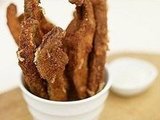 Ingredients
FRIES
2 eggs
3 tablespoons water
2 cups Italian-seasoned bread crumbs
1/2 cup grated Romano cheese, grated
1/4 cup flour
4 portobello mushrooms, stems removed
Oil for frying
AIOLI
2 lemons, juice of
1/4 cup parsley, chopped
2 garlic cloves, minced, fresh
1 cup mayonnaise
Salt and pepper to taste
PONZU
(Makes about 2/3 cup)
1 teaspoon soy sauce
3 tablespoons ketjap manis
1 teaspoon Thai fish sauce
6 tablespoons mirin
2 teaspoons rice-wine vinegar
1 slice ginger (2 1/8-inch thick), smashed
Directions
In a small bowl, combine eggs and water to make egg wash.
In a shallow dish, combine breadcrumbs and romano cheese.
Slice mushrooms in 1/2-inch wedges. Toss in flour to coat evenly, then coat in egg wash. Roll in breadcrumb mixture.
Fry in 350-degree oil until dark golden brown.
Aioli: Mix all ingredients together until well incorporated. Serve with fries.
Ponzu: In a small bowl, combine soy sauce, ketjap manis, fish sauce, mirin, and rice-wine vinegar. Add ginger. Cover, and let stand overnight. Strain through a fine sieve.
Saved to