Portobello Tacos with Salsa Verde
This recipe from Vegetarian Times serves 6–easily. The salsa verde–at least 10! It makes a lot of sauce, so next time I'll probably halve the recipe for that. I also found the sauce a bit bland, so I added a bit more salt. The original recipe is for grilled portobellos, but I decided to saute them. These were very yummy and the marinade was simple and delicious.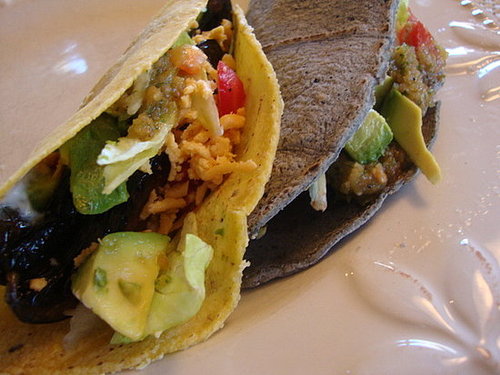 Vegetarian Times
Portobello Tacos with Salsa Verde
Ingredients
Marinade:
1/3 C canola oil
3 Tbs balsamic vinegar
1 tsp black pepper
Tacos:
6 large portobello mushroom caps
6-6″ soft corn tortillas (can easily get 12 tacos from this recipe–and I think I prefer flour tortillas)
2 avocados, sliced
2 C chopped tomatoes
3 C shredded cabbage
Vegan sour cream
Salsa Verde:
4 tomatillos, chopped (or 1 C canned)
1 large green bell pepper or poblano chili, roughly chopped (I used the bell pepper–may have been why I found it bland)
1 large bunch fresh cilantro, leaves only
1 medium onion, chopped
3 cloves garlic, minced
3 Tbs agave nectar
1-1/4 C canola oil
1 tsp black pepper
1/2 tsp salt
Directions
If using the grill, preheat grill for high heat.
To make marinade: Combine all ingredients in a small bowl.
To make tacos: Brush mushroom caps with marinade. Grill mushrooms 3-5 minutes per side. Cool until easy to handle, then slice into strips. (I actually poured the marinade in a zip lock bag and added the mushrooms, letting them marinate for about an hour. Then I sliced them and sauteed them in a large skillet for about 5 minutes).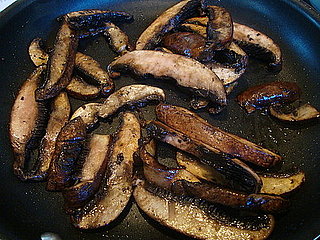 To make salsa verde: Puree all ingredients in a food processor 1 minute or until smooth. Pour salsa over mushroom strips and let stand 10-15 minutes. (I just scooped a couple of tablespoons of the salsa into the taco).  Lightly warm tortillas 15 seconds per side in a skillet or in grill.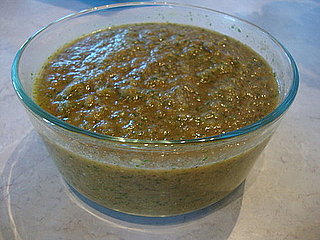 Fill tortillas with sliced mushrooms, avocado slices, tomatoes, and cabbage. Top each with sour cream, if using. Enjoy!
Information
Category

Other, Main Dishes
Saved to