Pot of Gold Soup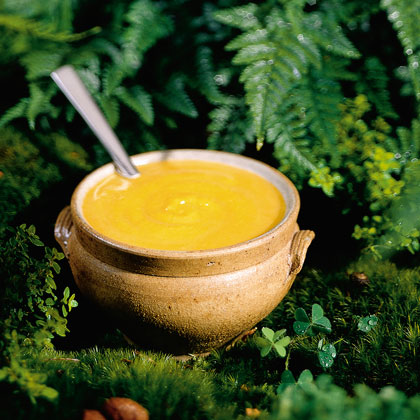 FamilyFun
Pot of Gold Soup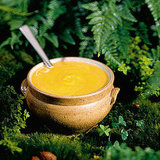 Ingredients
2 tablespoons butter
1 onion, finely chopped
3 medium apples
2 medium butternut squashes (about 3 pounds)
1 cup apple juice or cider
3 cups chicken stock
2 tablespoons brown sugar
1 tablespoon pumpkin pie spice
Salt and pepper
Directions
Melt the butter in a saucepan over low heat. Add the chopped onion and saute until soft and translucent. Remove the onion from the heat.
Now set your kids to work peeling the apples while you peel, seed, and chop the squash. Core and chop the peeled apples.
Add the apples, squash, juice or cider, and chicken stock to the onions and bring to a boil. Then lower the heat and simmer partially covered for 25 minutes.
Add the brown sugar, pumpkin pie spice, and salt and pepper. Puree the soup, reheat, and serve. Makes 6 to 8 servings.
Saved to