Potato and Corn Chowder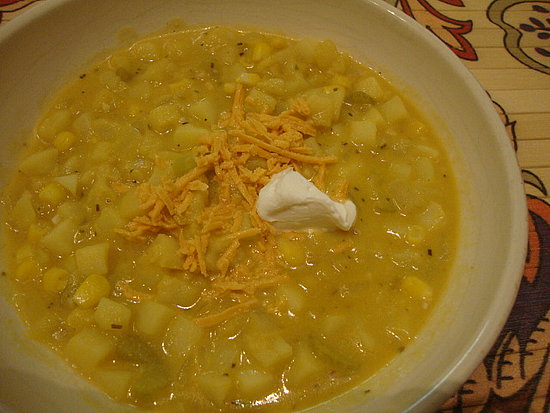 I told you I was going to make soup. Considering it's quite cold here in Colorado, soup just hits the spot. I used frozen diced potatoes which made it very easy to prepare. I served this soup with the
chive-flecked spud muffins
which were an ideal accompaniment.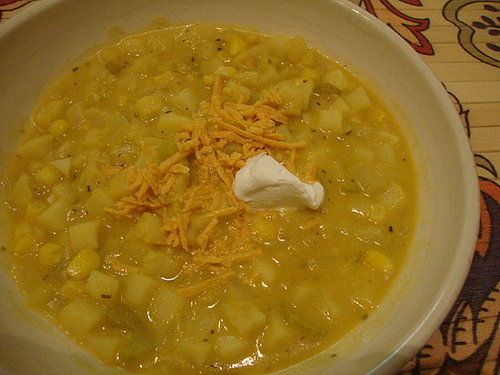 Original recipe
Potato and Corn Chowder
Ingredients
1 C onion, diced
1 C celery, sliced thin
5 cloves garlic, minced
1-1/2 tsp Garlic and Wine seasoning or a Mrs. Dash-type seasoning
2 lbs russet potatoes, diced (I used frozen ones, thawed)
1 tsp dried rosemary
1 C corn kernels
14-oz coconut milk
4 C vegetable broth
1/2 C nutritional yeast
1-2 Tbs olive oil
Optional ingredients: shredded vegan cheddar, Tofutti sour cream, fresh chopped chives
Directions
In a large soup pot, heat the olive oil and saute the onions and celery for about 5 minutes. Add the garlic and saute another 3 minutes. In a large bowl, whisk together the nutritional yeast and vegetable broth. In the soup pot, whisk in the coconut milk, then the broth mixture. Add the Garlic & Wine seasoning and rosemary.  Bring to a boil for about 10 minutes. Add the potatoes and corn and simmer 10 minutes. Enjoy!
Information
Category

Soups/Stews, Chowder
Saved to