Potato and Kale Enchiladas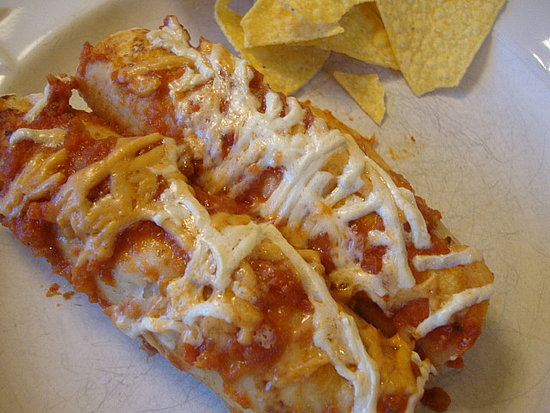 It's a damn good thing these came out SO DELICIOUS because they were a bit labor-intensive (and that was after I simplified the recipe)! The Husband picked out this recipe from Veganomicon and even though they sounded amazing, after I read the instructions, I put off making these until I knew I'd have plenty of time to devote to them. Finally, last night I cracked open the cookbook and got to work. I made some alterations to simplify the recipe and to cut down on some of the time required to make this. I LOVE the enchilada sauce and frankly, that portion is pretty easy. I would definitely use this sauce recipe for all enchiladas I make, and even lasagna. I will list the original recipe and add show my alterations. Overall, I'm so glad I made these—they're wonderful!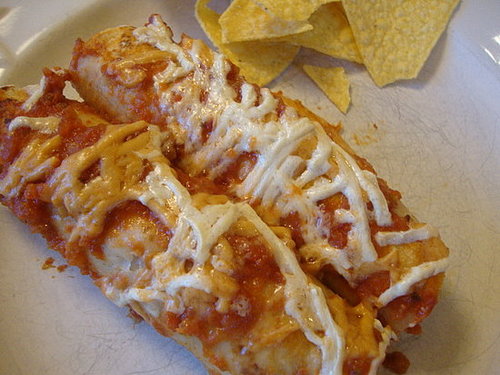 Veganomicon
Potato and Kale Enchiladas
Ingredients
ENCHILADA CHILE SAUCE:
2 Tbs grapeseed oil or olive oil
1 onion, diced
3 large green chilies (such as Anaheim or Italian-style long green peppers), roasted, seeded, peeled and coarsely chopped (Yeah, I used a 7-oz can)
2-3 tsp Ancho chili pepper
1-1/2 tsp cumin
1 tsp marjoram or Mexican oregano (epazote) I used regular oregano
1 28-oz can diced tomatoes, roasted preferred
1 tsp sugar
1-1/2 tsp salt
POTATO AND KALE FILLING:
1 lb waxy potatoes (Yukon gold or red) I used russet
1/2 lb kale, washed, trimmed and chopped finely (Use the food processor! It will save you. Plus, I added another 1/2 lb)
4 cloves garlic, minced
1/2 tsp cumin
1/4 C vegetable broth or water
3 Tbs lime juice
1/4 C toasted pumpkin seeds, chopped coarsely, plus extra for garnish. (First, I had no desire to grab a pan and toast these, especially since I didn't notice they had to be toasted until it was time to add them. I didn't bother chopping them, either).
1-1/2 tsp salt, or to taste (Seemed like a lot, so I just did a little)
12-14 corn tortillas (These are my favorite: a cross between a flour and corn tortilla. They roll up beautifully without having to steam them at all first) : La Tortilla Factory Hand Made Style
Directions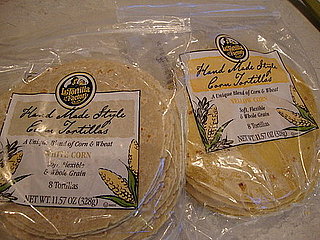 Preheat oven to 375. Use a 11.5″x7.5″ casserole dish. To save yourself a headache, get the kale washed, trimmed and chopped, as well as peel and dice the potatoes.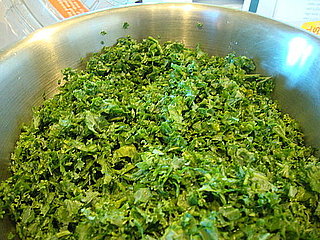 To prepare the sauce, saute the onion and oil in a large skillet over medium heat, about 4-7 minutes. Add remaining sauce ingredients, bring to a simmer.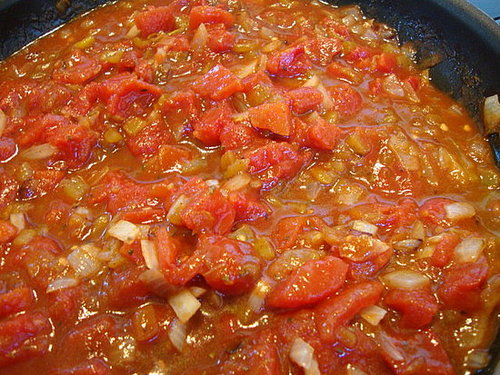 Remove from the heat, let cool, then taste it to adjust seasoning, if necessary. Puree in an immersion or regular blender until smooth. (I used the food processor).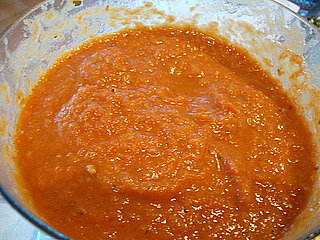 To prepare the filling, boil the potatoes until tender, about 20 minutes. Drain and set aside. (This next step, I recommend doing while the potatoes are cooking) Cook the grapeseed oil and minced garlic in a sauce pot (I used the same skillet from the sauce–just washed it out) over medium heat until garlic just begins to brown. Add the kale, sprinkle with some salt and stir often. Partially cover the pot and steam the kale about 4-6 minutes. Then add the potatoes, broth (or water), lime juice, pumpkin seeds, and salt. Mash the potatoes a little bit with a spoon. Cook another 3-4 minutes.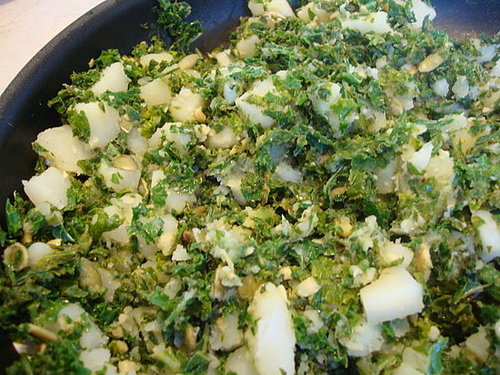 To create these fabulous enchiladas . . . finally. . . the recipe says to ladle some sauce in a shallow dish and a heated griddle. Seriously?! My kitchen already looked like the Swedish Chef had made a 10-course meal and adding another pan to my already-crowded workspace just wasn't going to happen. Plus, the tortillas I used are perfect for rolling—they're soft enough already that they won't crack. So if you wish to torture yourself, this is what the original recipe says: Ladle a bit of sauce onto the bottom of the casserole dish (ok, I did do that). Take a corn tortilla, place it on the heated griddle for 30 seconds, flip over and heat until soft and pliable. Drop the tortilla into the sauce and cover it completely with sauce. Place it in the casserole dish and layer it with another heat, sauce-covered tortilla (or use one. Or don't do it that way at all). Seriously, too messy and labor-intensive. Fill with potato filling and roll up. Ok, I took the easy epicurean vegan way. After adding a layer of sauce on the bottom, I scooped some filling into my already soft and wonderfully pliable tortilla, rolled it up and placed it in the pan. That easy. Continue until the pan is filled.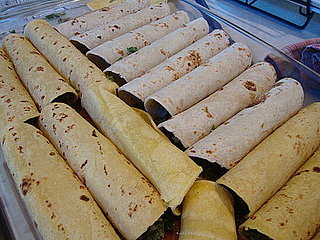 After reserving about 1-1/2 cups of the sauce, pour the rest over the enchiladas. Now, I can't imagine enchiladas without cheese, so I sprinkled some Daiya cheese shreds on top.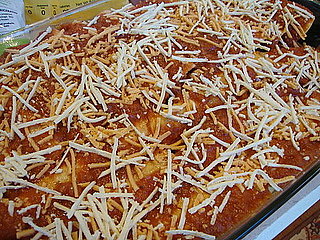 Cover with foil and bake for 25 minutes. Remove foil and bake another 10-15 minutes. Top individual servings with the extra sauce (that you've warmed up). You may not recognize your kitchen once these are in the oven, but at least while they bake, you'll have time to reclaim your space! Enjoy!
Information
Category

Main Dishes, Potatoes
Saved to