Powderhorn Potatoes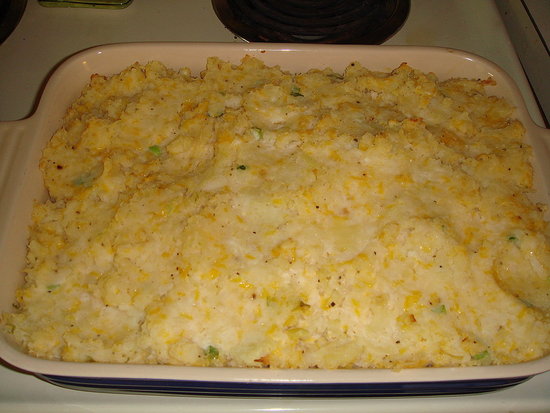 Everyone will tell you they have a hashbrown casserole, they have some cheesy potatoes, they've got some Campbell's soup slop recipe.  Read my lips: They are full of shit.
It's these, baby.  These are potatoes so good you'll think about them as you fall asleep at night.
Ingredients:
- 10 medium baking potatoes
- 1/2 c butter
- 2 c sour cream
- 1/4 c green onions (or as many as you want–I cut up like three stalks)
- 8 oz. sharp cheddar cheese
- salt
- pepper
Directions:
The night before, bake potatoes at 400 degrees for 1 hour.  Take them out of the oven and store in the fridge overnight.
The next morning, peel the potatoes and grate them into a very large bowl.  Combine butter, sour cream, green onions, cheese, and salt and pepper to taste.  Mix very well.  There is so much, you might need to get your *very clean* hands in there to mix.  Remember to remove your rings.
Transfer well mixed ingredients to a casserole dish.  Bake uncovered at 350 degrees for 30-40 minutes, or until slightly browned on top.
That's the other great thing about this dish; it's for any meal!  It makes a great breakfast/brunch dish, and it's the perfect accompaniment to most dinners.  My mom even makes them for Thanksgiving, and I'm told they're awesome with gravy.

Saved to