Pumpkin Cheesecake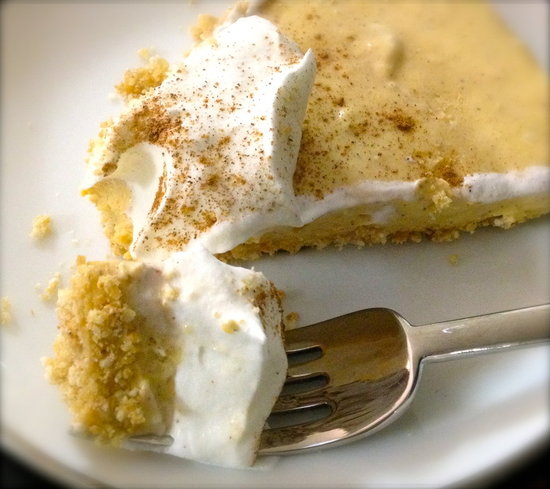 I know that pumpkin month is over- but you have to make pumpkin pie for Thanksgiving…and you have to buy the big can of pumpkin (just because you love it so much) and you HAVE to use the left over puree…so why not make a pumpkin cheesecake? You might be thinking: Because it is right after Thanksgiving, your stuffed, and if you make a cheesecake, you might not be able to button your jeans…If you go to Cheesecake Factory, you might be right. But, if you make this delicious cheesecake, your jeans will fit just fine AND you will get your last bit of creamy, dreamy, pumpkin satisfaction!
This recipe is super light, super easy, and still super tasty! One of Gavin's favorite foods is pumpkin cheesecake. We just had a dinner party, and I served this little number- he couldn't believe that it was healthy…and he was super excited when I served him a second piece!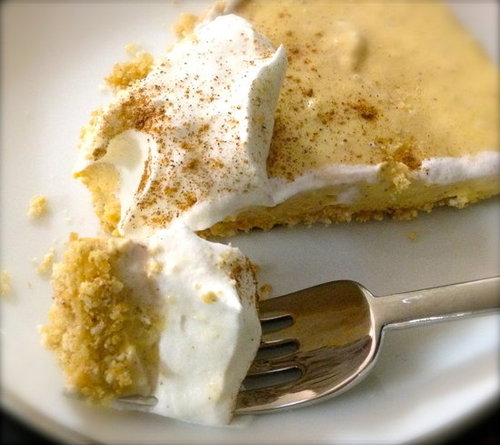 Ingredients
Pumpkin Cheesecake Torte
8 servings
Crust
1 C honey wheat pretzel
2 T smart balance light
Filling
4 T water
1 t gelatin
1 8oz package cream cheese
1/2 C pumpkin puree
1/4 C 0% plain greek yogurt
1/2 C sugar
1/4 t sea salt
1/2 t cinnamon
1/8 t nutmeg
1/16 t ground ginger
Directions
To prepare the crust, line a cake pan with plastic wrap and spray the wrap with non-stick cooking spray. In a blender, make a flour out of the honey wheat pretzels. Pour the pretzel powder into a bowl. Melt the butter. Pour it over the pretzels and use your fingers to combine the mixture. Press the mixture into the bottom on the pan and then place the pan in the fridge to chill.
Bring one inch of water to a boil in a sauce pan. Place a heat safe bowl in the pan with the 4 T water and the 1 t gelatin in it. Allow the water to warm and the gelatin to dissolve. Set aside.
In a medium bowl, cream the cream cheese until smooth. Add the greek yogurt and pumpkin and beat until smooth. Add the sugar, salt, cinnamon, nutmeg and ginger and beat until smooth. Next, pour in the gelatin mixture and beat again.
Remove your crust from the fridge and pour the cream cheese mixture in. Smooth the surface and then place it back in the fridge for at least 3 hours to chill.
Serve with whipped cream and a little dash of cinnamon.
Nutritional Comparison:
1 serving (1/8 of the torte!) has 152 calories and 4.75 grams of fat.
1 serving (same amount) pumpkin cheesecake has 375 calories and 16 grams of fat.
Information
Category

Desserts, Cheesecake
Saved to