Pumpkin and Date Scones
I love to eat scones along with my usual afternoon tea.
I make them every once in while, not as much as muffins, but every now and then.
I'm always looking for more n' more different recipes to try when it comes to baking, except for scones.
I don't know what it is, scones to me are scones, period!
I'm always seeing all types of combinations for scones, berry's and such, apple and cinnamon, raisin and bran, you name it!
Nah, not interested... That was until I saw PUMPKIN and DATE scones!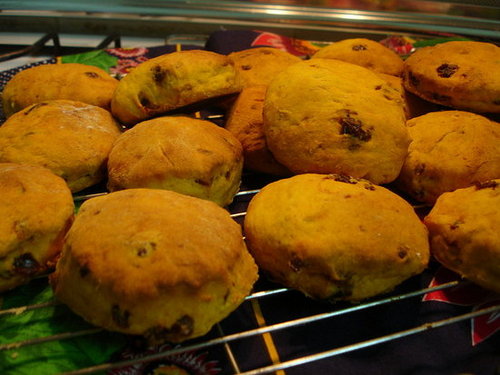 These were very "moist" and doughy, not so much as a classic scone texture, but very good for spreading all types of condiments. Cottage cheese went very nicely with these! Recipe courtesy Pittsburgh Needs Eated.
Pumpkin and Date Scones
Ingredients
2 1/2 cups flour (the recipe calls for 3, but thats what gives the scone texture away)
1/4 cup sugar
1 tbsp baking powder
3/4 tsp baking soda
3/4 tsp salt
8 1/2 tbsp cold unsalted butter, cut into chunks
150g chopped pitted dates or dried cherries or cranberries
1 cup cold cooked mashed butternut squash or pumpkin
3/4 cup buttermilk
Directions
1. Preheat your oven to 200C/395F.
Lightly dust a sturdy baking sheet with flour and set it aside. (If you don't have a heavy baking sheet, line a lightweight one with parchment.)
2. Put half the flour mixture, sugar, baking powder, baking soda, and salt into a food processor and whiz them for about 20 seconds so they're thoroughly mixed. Add the butter chunks and whiz everything again until the mixture resembles coarse breadcrumbs and toss in the rest of the flour. Tip it into a large bowl. (You can also do this by hand. Sift the dry ingredients into a large bowl, then whisk them for about 1 minute. Use your fingers to rub in the butter chunks, lifting your hands as you do to aerate the mixture.)
3. Add the dates to the bowl and toss them about to coat them in the floury mixture. Make a well in the middle of the ingredients. Whisk together the pumpkin and buttermilk and pour them into the well. Stir everything together very gently and quickly. Tip the mixture out onto a floured chopping board and knead it lightly a few times so it comes together- it's pretty sticky. (This mixing and kneading stage is where you need to maintain the proverbial "light hand" to end up with fluffy scones.)
4. Pat the dough out into a round about 1.5 inches (4cm) thick. Dip a scone cutter or a small tumbler into some flour, then stamp out the scones, dipping the cutter into the flour between each one (this helps stop the dough sticking to it). You can also cut the scones into triangles.
5. Sit the scones closely together on the prepared baking sheet. You'll have some scraps left, so gently knead them together and cut out more scones. To finish them you can dust the tops lightly with flour or brush them sparingly with milk or egg wash (1 yolk to 2 tsp water).
6. Bake the scones for 20 minutes. When they're ready, remove them from the oven and wrap them immediately in a clean tea towel (this helps keep them moist). Let them sit for 5 minutes, then serve the scones with butter.


Made me 24 standard sized scones.
If you make them into triangular wedges you'll get about 20.
Information
Category

Breads, Scones
Saved to