Pumpkin Chocolate Chip Muffins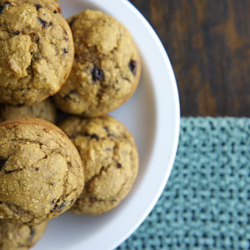 Last week, I went to Trader Joes to do a little grocery shopping- I love their Greek yogurt, natural peanut butter, amazingly priced farm raised eggs, and their stevia extract. But, lets be honest, one of the best things about TJ's is their sample station and awesome coffee! Maybe I have issues, but I can't go in the store with out stopping to see what's cooking over in the sample area. Its usually pretty amazing…and last week was no different. They were sampling their boxed pumpkin bread mix with dark chocolate chips added to it. I couldn't get over how wonderful the spiced pumpkin and dark chocolate went together- so I decided my next healthified recipe would be a pumpkin muffin (made with oat flour) and dark chocolate.
Warning- these things are pretty addictive. 1- because you can eat 3 of them and they equal one serving of oatmeal and 2- because even after they are cool, the chocolate stays melty and they stay super moist!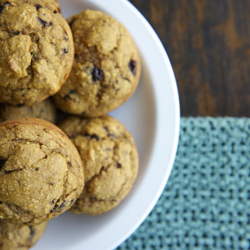 Pumpkin Chocolate Chip Muffins
Ingredients
Pumpkin Chocolate Chip Muffins
1 1/2 C Oat Flour
1/2 t baking powder
1/2 t baking soda
1/2 t salt
1 t cinnamon
1/4 t nutmeg
1/8 t ginger, ground
1 C pumpkin puree
1/2 C brown sugar
1/2 C 0% plain greek yogurt
1 whole egg, 1 egg white
1 T almond or other milk
1/4 C dark chocolate chips
Directions
Preheat the oven to 350 degrees. In a large bowl, mix all of the ingredients (minus the chocolate chips) together until everything is moist. Then gently mix in the chocolate chips. Now, spoon the mixture into a greased (I use coconut oil) muffin tin about 3/4 full. Bake for 15-18 minutes. Cool for 5 minutes in the muffin pan and then cool on a cooling rack the rest of the way.
Information
Category

Breads, Muffins
Saved to