Pumpkin Whoopie Pies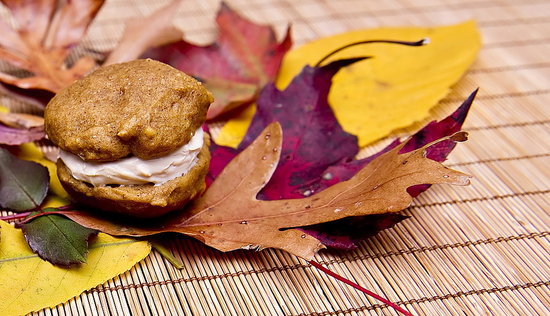 If you look around your neighborhood bakery, there is a good chance you will notice these adorable little disk shaped delights with a wonderfully creamy filling. They seem to be all the rage right now- and holy cow- once you read a few recipes for them- you realize they are quite the calorie and fat laden indulgence. Which is fine- but I liked the idea of being able to eat these little beauties as often as I would like to…and still be able to button my jeans :)
I made this recipe the other day, and I served it to my family, and the girls in my small group- I was a little nervous about it because, honestly the ingredients are pretty far from the traditional whoopie pie recipes that I have seen. But, these little guys passed the test! The only question I kept getting was: "what exactly is a whoopie pie?" and to that I would answer- I don't really know, I just thought they were cute…and cream filled…so I wanted to make them!
But, I decided that if I am going to share this recipe, I should at least figure out the answer to that question…and trustly old Wikipedia came through!
While considered a New England phenomenon and a Pennsylvania Amish tradition,they are increasingly sold throughout the United States.According to food historians, Amish women would bake these desserts (known as hucklebucks at the time) and put them in farmers' lunch pails or lunch boxes. When farmers would find the treats in their lunch, they would shout "Whoopie!"It is thought that the original Whoopie pies may have been made from cake batter leftovers.
So, next time you want to make your friends and neighbors say, "whoopie" this might just be the perfect way to do it!
Nutritional Comparison:1 Traditional Pumpkin Whoopie Pie has 340 Calories and 17 grams of fat!1 of these Whoppie Pies: 120 Calories and 3.7 grams of fat…now that is something you can enjoy!v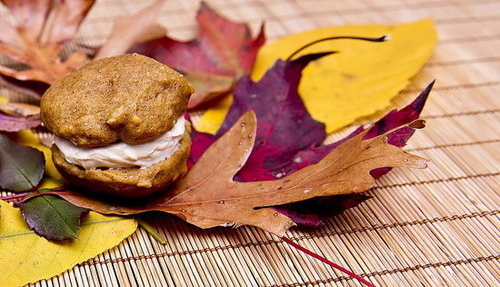 Ingredients
Makes 14-16 pies
2 1/2 T Smart Balance Light Omega3 (or butter), softened
1/2 C brown sugar, packed
1 whole egg and 1 egg white
1 cup pumpkin puree
1/2 C whole wheat flour
1/2 C all purpose flour
1/2 t baking powder
1/2 t baking soda
1 t cinnamon
1/2 t salt
1/8 t nutmeg
sprinkle (less than 1/8 t) ground ginger and cloves
Maple Cream Cheese
1 8oz package 1/3 less fat cream cheese
1/2 t pure vanilla extract
1/4 C brown sugar
1 T pure maple syrup
Directions
Preheat the oven to 350 degrees. In a large bowl, cream the butter and brown sugar. Add the eggs and pumpkin and mix well on medium.
In a separate bowl, combine the flours, baking soda, baking powder, cinnamon, salt, nutmeg, cloves and ginger.
Add half of the flour mixture to the pumpkin mixture and mix well. Add the remaining flour and mix again.
Now, using a Tablespoon measuring spoon (it will help your pies be the same size) scoop tablespoon sized dolops onto a cooking sprayed cookie sheet keeping them about 1 inch apart.
Allow them to bake for 8-10 minutes. Remove them from the oven and allow them to cool completely on a wire rack before making your pies!
While the cookies are cooling, combine the cream cheese, vanilla, brown sugar and maple syrup in a medium bowl. Mix until smooth and creamy.
When your pies are totally cool, start to assemble them. Scoop 1 Tablespoon of the cream cheese onto the middle of one of the pie sides and then gently press the other side on top until you can see the cream evenly around the edges. Repeat…then get ready to say, "whoopie"!
 
 

Information
Category

Desserts
Saved to