Purple potatoes and Tamarillos
This is from my blog from a while back... adventures in foods I hadn't tried yet... turned out rather well. I'm making the lamb again tonight, a friend is coming for dinner.
I'm posting it here because its a bit easier for me to find tonight... and, I thought all you foodie friends would like to take a peek.
BTW: this is a very rich dish... obviously its only a special occasion type thing... I wouldn't make it a regular in my meal rotation... even if it is really really good.
----
So, to start with dinner... We started chopping and slicing...
for the gratin, 5 medium purple potatoes, and 5 red pearl onions
and for the lamb, a handful of mint which got mashed with the flesh of 1 red tamarillo, some brown sugar, ground chipotle (thanks for the tamarillo and chili info cupcake king!), a dash of red pepper flakes, dry sage, and "steak house seasoning" that came in its own grinder.



Then I mushed the tamarillo and seasoning goo (which was a really pretty color) all over the lamb, and wrapped them in bacon (because it sounded good... and it was).
Then I carmalized the red pearl onions in a pan with a little butter and brown sugar.
And I also cooked the rest of the bacon in another pan.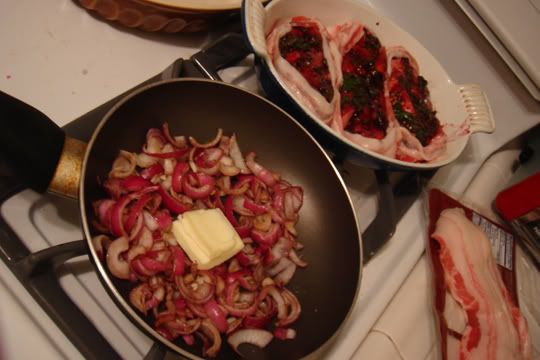 After the onions were carmalized, came the layering. Butter in the bottom of the baking dish, then potatoes, then the lemon myrtle bidgee cheese, some goat cheese, bacon, carmalized onions, more butter... then the potatoes again... etc...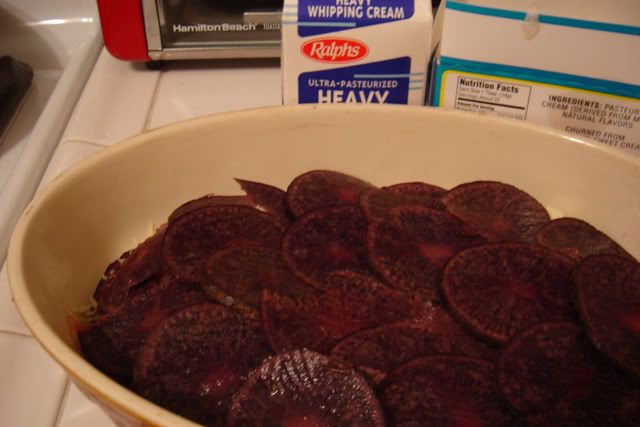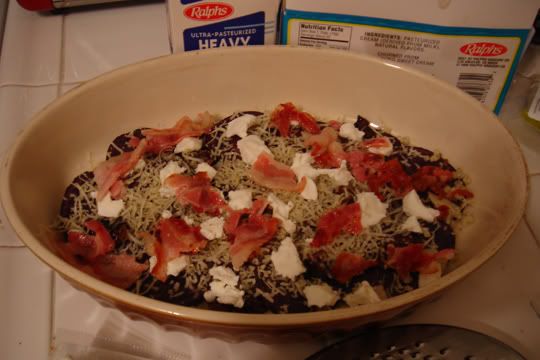 Then I topped it all off with heavy cream (it ain't a fat free dish thats for sure!!!) and popped the lamb and potatoes in a 400F oven...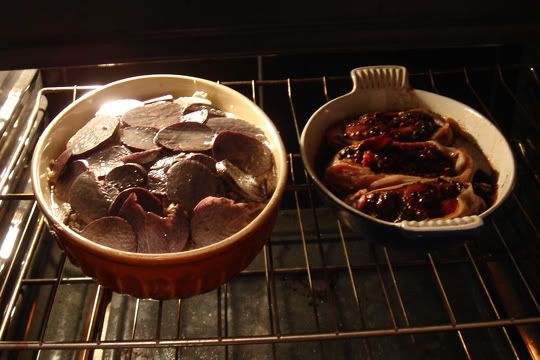 The lamb was done sooner than the potatoes... which wouldn't have happened had I more time, and was able to prepare everything earlier... So I took it out of the over, and popped it in the microwave for 5 minutes, then stuck it under the broiler to make it look browned and toasty.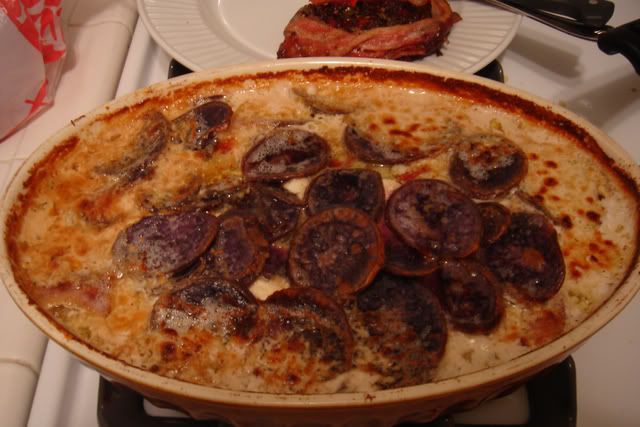 The finished meal, served with rosemary potato bread... Made both Casey and I say "Oh my God" with our mouths full, and take the baking dish to the table to sop up juice with our bread.



And of course, wine. A red zinfindel called Cardinal Zin, I picked because I like the artist (Steadman) that did the label... I don't know wine very well, I'm too easily swayed by pretty pictures... hehe.

All in all this "try something new" adventure, turned out great. I'll definatly be making these again... maybe shake up my meat and potatos family with a bit of a twist... hehehe.
Saved to