Queen Baby Bean | Bathroom - Decor Furniture Set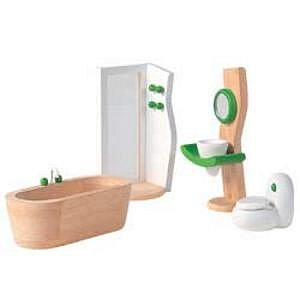 A selection of modern furniture sets specially designed in bright colours for fun play!
PlanToys work at global standards - toys are made from recycled, chemical-free rubber wood and no harmful additives or colouring are used.
Plan Toys uses wood from discarded rubber trees which after 25 years can no longer produce latex. In the past these trees were cut down, burned and turned into charcoal. By reusing this wood, Plan Toys opened up a new path towards ecological balance. Concern for the environment does not stop there, the wood is chemical-free and the paper used in our packaging is recyclable which helps to reduce garbage. Our gift to children is a beautiful world for years to come, that is Plan Toys wish.
Plan Toys designs use round edges and other measures to ensure the safety of children. The rubberword is kiln-dried to achieve the correct moisture content after thoroughly removing any insects and bacteria. Plan Toys has passed both European (EN71) and American standards safety tests (ASTM).
Plan Toys is the world's first wooden toy manufacturer to acquire SA8000 the Social Accountability Standard certification. We provide a wholesome and safe working environment emphasizing the right to self-sustainable development, guaranteed fair wages, and no discrimination, and no child labor used.
Read More
Saved to