Quinoa Pilaf with Cranberries and Almonds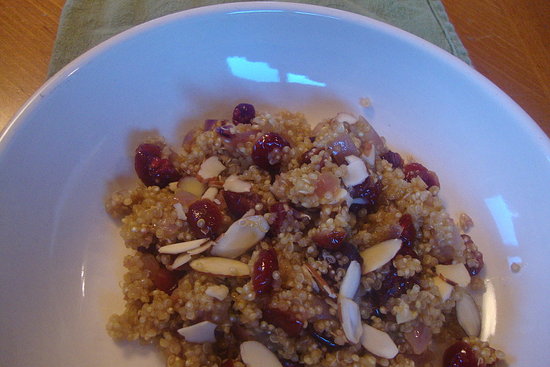 This is one of my favorite side dishes.
Quinoa is not a grain, but actually a seed, but certainly looks, cooks and tastes like a grain. It's even called a "supergrain" because of it's many benefits and easy digestibility. Quinoa is packed full of protein, magnesium, and fiber. Research has also found that eating this fabulous seed…can help prevent breast cancer, diabetes and insulin resistance. So dig in!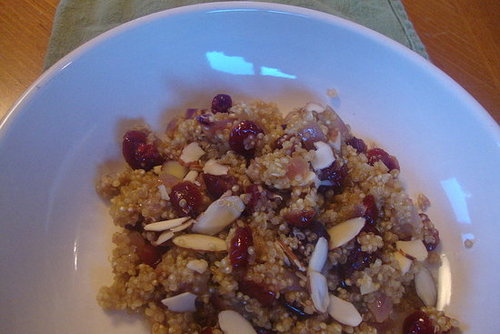 Whole Foods
Quinoa Pilaf with Cranberries and Almonds
Ingredients
1 tablespoon extra virgin olive oil
1 small red onion, chopped
1 cup uncooked quinoa, rinsed and drained
2 cups low-sodium chicken or vegetable broth
1/2 teaspoon salt
2/3 cup dried cranberries
2/3 cup sliced almonds, toasted
Directions
Heat oil in a medium pot over medium high heat. Add onions and cook, stirring often, until just softened, 2 to 3 minutes. Add quinoa and toast, stirring constantly, for 1 minute. Stir in broth and salt and bring to a boil then reduce heat to medium low, cover and simmer for 10 minutes. Stir in cranberries, cover again and continue to cook until liquid is completely absorbed and quinoa is tender, 8 to 10 minutes more. Toss with almonds. Enjoy!
Information
Category

Side Dishes, Grains
Saved to